Vocabulary 'improving' for children but inequality remains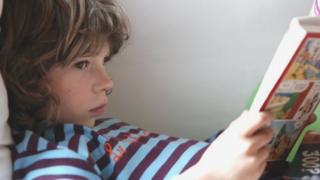 Vocabulary is improving among young children, a Scottish government study has concluded.
The Growing Up in Scotland project is following the lives of 10,000 children.
Its latest report found vocabulary scores at the age of three had improved by 3.5% in the lowest income group, and two percentage points in the highest.
Mothers from low income groups were more likely to smoke during pregnancy but more affluent mothers were more likely to drink alcohol.
The children in the study are split into two groups - those born in 2010/11, and those born in 2004/05 - and their lives compared using a number of indicators.
Researchers ScotCen found that 69% of parents now look at or read books to their child when they are aged 10 months.
There has also been a rise of mothers staying away from alcohol during pregnancy, from 74% of those who gave birth to the older age group to 80% of mothers of children born in 2010/11.
Overall, the report highlights wide inequalities "across a range of outcomes and experiences from the early years of a child's life".
The study found:
8% of mothers in the highest income group smoked during pregnancy, compared with 49% of those in the lowest income group
20% of children in the highest income group were below the average vocabulary ability at age five, with 54% in the lowest income category
34% of mothers in the highest income category drank alcohol during pregnancy compared to 11% in the lowest earning bracket
Aileen Campbell MSP, the Scottish government's children's minister, said: "This report shows that we are making progress narrowing the attainment gap and reducing health inequalities but there is still more to do.
"Vocabulary and problem solving for those with the lowest incomes is getting better and more children from all backgrounds are experiencing the joy of reading at an early age.
"Tackling inequalities sits at the heart of this government's agenda."