Tory councillor suspended over Islamic State moles tweet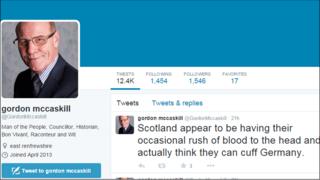 A Conservative councillor has been suspended after posting a joke on Twitter about "moles" from Islamic State moving in with First Minister Nicola Sturgeon.
Gordon McCaskill published his comment after Ms Sturgeon offered her house to a Syrian refugee.
The East Renfrewshire councillor has since removed the tweet.
A Tory spokesman confirmed Mr McCaskill had been suspended while an investigation was carried out.
The council's Conservative group leader has posted a number of comments about the conflict in Syria, which has seen millions of people flee their homes.
The one which sparked his suspension read: "Scenes we'd like to see: the refugees Nicola invites into her house are Daesh moles."
On Sunday, Ms Sturgeon told the Murnaghan programme on Sky News that she would be "absolutely happy" to take a refugee from Syria.
The Conservative government at Westminster announced on Monday that Britain would accept 20,000 Syrian refugees over the next five years.