First minister claims Scotland is 'northern powerhouse'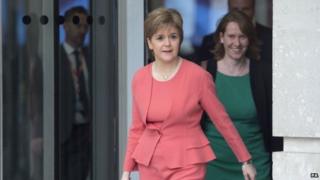 The first minister has said Scotland has become the real "northern powerhouse" of the UK.
She had been outlining the Scottish government's economic priorities during a speech in London.
Nicola Sturgeon also criticised UK government cuts to welfare payments.
Ms Sturgeon was invited to deliver the keynote speech at a business breakfast being hosted by Scottish Enterprise at London's Mansion House.
In her speech, she said Scotland is leading the way in Britain in terms of infrastructure spending and job creation.
In a strongly worded criticism of the Budget's reduction in payments such as tax credits, Ms Sturgeon argued more should be done to boost economic output and insist the poorest should not be penalised.