Women 'hit hardest by benefits cuts'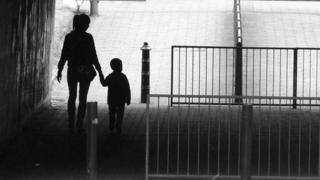 Women are being worst hit by controversial welfare reforms brought in by the UK government, according to MSPs.
A report by Holyrood's Welfare Reform Committee said benefits cuts had a disproportionate impact on women.
The report made a number of recommendations to the UK and Scottish governments to mitigate the effects.
The Department of Work and Pensions (DWP) said there was a near record number of women in work in Scotland.
Scottish welfare minister Margaret Burgess said the Scottish government was working to help those affected.
Changes already made to the system include cuts to a number of individual benefits, including child support and carers' allowance, and a plan to reduce the benefits cap - the maximum amount any household can receive - from £26,000 to £23,000 a year.
A further £12bn reduction in welfare spending has also been announced, with details expected to be announced by Chancellor George Osborne in Wednesday's budget.
'Integrated approach'
The committee's report urged the Scottish government to make use of new powers over welfare due to come to Holyrood as part of the Scotland Bill.
It recommended an integrated approach to job seeking support across health, housing and social care and measures to close the gender pay gap and end occupational segregation, to reduce the number of women relying on benefits.
The committee also called for an end to the Universal Credit, which brings all benefits into one single monthly payment.
Committee Convener Michael McMahon, a Labour MSP, said: "The evidence we have set out confirms the devastating impact on women of the UK government's reforms to the social security system.
"Of particular concern is the cumulative impact on women hit by multiple benefits cuts.
"The UK government urgently needs to look at how women are being affected by these changes and we are also calling on the Scottish government to look at the gender impact of their own policy decisions."
'Growing economy'
A spokesman for the DWP said: "Our reforms are fixing the welfare system to ensure it promotes work, helps people lift themselves out of poverty and puts public spending on a more sustainable footing.
"There is a near record number of women in work in Scotland, and by sticking to our long term economic plan we can ensure more people have the peace of mind and security that comes with a regular pay cheque."
The DWP also pointed out that employment in Scotland has increased by 53,000 and unemployment has fallen by 19,000 over the past year.
It said more women were "making the most of the job opportunities created by our growing economy" with 49,000 more women in work now than a year ago.
Scottish welfare minister Margaret Burgess welcomed the recommendations in the report but said it was "alarming" that women were "twice as dependent on social security than men".
She added: "Over the next few months we'll be listening to the people affected by the welfare cuts and will be making sure we get the views of women on how we can create a system that suits their needs.
"Our new independent adviser on poverty and inequality will be looking at what more we can do to lift people out of poverty, we have invested £296m in welfare mitigation measures, extended our childcare and are encouraging employers to pay the Living Wage."