Nicola Sturgeon pledges to act against online abuse by SNP members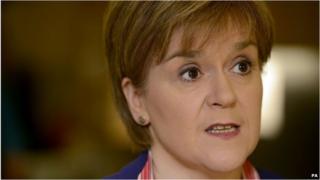 Scotland's First Minister Nicola Sturgeon has promised that SNP members who make abusive comments on social media will be disciplined.
She made the pledge in a 740-word commentary in the Scottish Daily Mail.
The paper had accused Ms Sturgeon of having "close links to some of Scotland's most vile internet abusers".
The tone of social media debate about Scottish politics has been raised in the Scottish Parliament chamber a number of times.
Most recently SNP leader Ms Sturgeon condemned comments made on Twitter by Neil Hay, who was a nationalist candidate in Edinburgh South at May's general election.
Scottish Labour was also challenged to take action against party activist Ian Smart, who previously described the SNP as "fascist scum" online.
Writing in the Mail, Ms Sturgeon said: "I am making clear today that the SNP will take steps to warn those whose behaviour falls short of the standards we expect - we will tell them to raise their standard of debate, to stick to issues not personalities, and to ensure robust and passionate debate takes precedence over abuse and intemperate language.
"And I am also making clear that, where appropriate, we will take disciplinary action."
When tweets or postings from SNP members that cross the line are brought to our attention, we will act - as we have done before."
Ms Sturgeon, who follows 3,500 people and is followed by almost 230,000, said she could not personally keep track of everything said on Twitter.
But when tweets or postings from SNP members that "cross the line" are brought to the party's attention, she said: "We will act - as we have done before."
Ms Sturgeon added: "We must ensure that as politicians we set a good example and debate the issues not the insults. Raising the standard of debate is a responsibility across the board and I urge all parties to do as we have done - to say clearly that crossing the line will not be tolerated.
"And then we should all stop feeding the trolls. The fact is that internet and social media is a huge positive for our political culture - and a tiny minority should not be allowed to destroy that."
The first minister said it would be wrong to suggest that Twitter abuse was "one-way traffic".
"It spans the political spectrum. That is why, across all parties, we must send out a clear message that politics in Scotland will not be sullied by this behaviour."