The BMA calls for ban on alcohol ads at children's events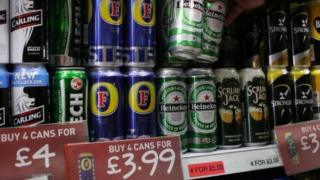 The British Medical Association (BMA) in Scotland has called for alcohol advertising at events aimed at children to be banned.
BMA Scotland has backed the proposals included in a member's bill at the Scottish Parliament.
The Health and Sport Committee are currently seeking written views on the bill, before it is debated by MSPs.
BMA said it hoped the debate would draw attention to the "comprehensive alcohol strategy Scotland needs".
The bill proposes to limit alcohol advertising near places used by children, such as schools, and at events targeted at children. It would also limit alcohol advertising on retail premises.
The chair of BMA Scotland, Dr Peter Bennie, said: "The alcohol industry's sponsorship of entertainment or sporting events can see children become walking billboards for alcohol products, exposing them to alcohol brands while they are at an impressionable age.
"It should not be acceptable for the alcohol industry to sponsor and brand events that are aimed at under-18s and MSPs should use this opportunity to take action on alcohol advertising."
BMA Scotland are specifically backing the sections of the bill aimed at alcohol advertising around children, rather than the whole bill. A spokesperson said that the organisation still had concerns over other sections.
The organisation has also previously called for a ban on alcohol advertising before the 21:00 watershed, and backed the introduction of alcohol education in schools.
Figures analysed specially for the Scottish government in 2009 estimated that Scotland had the eighth highest level of alcohol consumption in the world.
The World Health Organisation has linked alcohol to more than 60 types of disease, disability and injury.
The Alcohol (Licensing, Public Health and Criminal Justice) (Scotland) Bill, introduced by the Labour MSP Dr Richard Simpson, is currently in the first stage of passage, which will see an inquiry and report by the Health and Sport Committee.