Row over Commons seats intensifies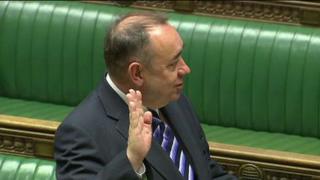 A row over who sits where in the House of Commons has intensified, with Alex Salmond saying Labour needs to accept it did not win the election.
The former first minister said "every single precedent" shows the SNP should occupy the first two rows of the benches traditionally used by the third largest party.
But the SNP has said Labour has refused to reach an agreement.
Seating arrangements in the House of Commons are guided by custom.
There are no formal rules, but leading members of the opposition usually sit on the front bench on the left-hand-side of the chamber.
'Seat wars'
The row, which has become known as "seat wars", began on Monday, when three Labour MPs, including the veteran Dennis Skinner, inhabited the front bench which the SNP insist is meant for the third party in parliament.
The SNP has accused Labour of refusing to discuss the matter since then.
The Labour party has refused to comment.
Mr Salmond, who was among the first MPs to take the oath as he was officially sworn-in as MP for Gordon, told the BBC: "Everybody knows Labour will have to come to an agreement.
"All this is a sign of Labour not coming to terms with the fact that they lost all their seats."
Parliamentary code
According to Erskine May, the parliamentary code of practice, no member of parliament can lay claim to a particular seat, but custom guides which parties sit where.
It states: "In the Commons no place is allotted to any Member: but by custom the front bench on the right hand of the Chair, called the Treasury bench or government front bench, is appropriated for the members of the administration. The front bench on the opposite side, though other Members occasionally sit there, is reserved by convention for the leading members of the Opposition."
SNP MPs want to occupy the front two rows of the opposition benches, as the Liberal Democrats did in opposition when they were the third largest party.
The Lib Dems vacated those benches when they joined the government benches opposite in coalition with the Conservative in 2010.