Cameron will 'look at' proposals for further Scottish devolution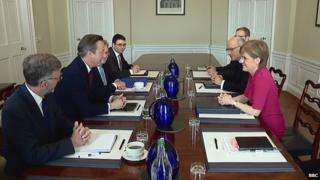 David Cameron has said he would "look at" any proposals for further powers for Scotland but wants to get the Smith Commission plans implemented first.
The prime minister was speaking after meeting Scotland's First Minister Nicola Sturgeon in Edinburgh.
Mr Cameron said he made a "commitment" to include a devolution bill in the Queen's Speech later this month.
Ms Sturgeon argued the Smith Commission proposals were "a good starting point" but did not go far enough.
The prime minister has pledged to include a bill on devolution in this month's Queen's Speech which would be based on the cross-party Smith Commission agreement.
The Smith proposals included giving Holyrood the power to set income tax rates and bands, as well as control over a share of VAT and some welfare benefits.
But Ms Sturgeon's SNP also wants the Scottish Parliament to be given powers over business taxes, employment law, the minimum wage and additional powers over welfare.
Speaking after meeting Ms Sturgeon, Mr Cameron told the BBC: "Let's make sure Smith is implemented in full. I'm going to keep the commitment I made to the people of Scotland. Let's get that done first because it does create a really strong Scottish Parliament."
He added: "Of course, if people want to make future proposals I'll look at them."
The prime minister again said he did not support full fiscal autonomy for Scotland - the responsibility for all areas of tax and spending except defence and foreign affairs - stating that it would mean £7bn of cuts or extra tax-raising.
---
Analysis by Laura Bicker, Scotland correspondent
What Nicola Sturgeon is trying to say is she has a mandate. She has 56 out of the 59 MPs elected in Scotland and she won 50% of the vote - unprecedented here in Scotland.
She says that gives her leverage to push David Cameron. David Cameron says he wants to keep the nation together.
The language coming out of Westminster last week was very much a cordial one. 'We will listen'.
Nicola Sturgeon has warned him that if he doesn't listen, then the people of Scotland will judge him accordingly.
---
Ms Sturgeon described the hour-long talks at her official residence at Bute House as "constructive and business-like".
She said Mr Cameron had made a "commitment" that the Smith proposals would be implemented "as agreed".
"But secondly the prime minister agreed that he would look at proposals that we would now send to suggest the areas we can go beyond Smith," Ms Sturgeon said.
"There was no agreement in terms of the substance of that but we will submit those proposals, the prime minister has said they will consider them and there will be a meeting to look at how we take that further forward."
Referring to her party's success in last week's general election, which saw the SNP win 56 out of 59 Scottish seats, Ms Sturgeon said: "People in Scotland have now voted fairly convincingly for the SNP and sent a message that we want the Smith Commission proposals to go further and be built on.
"The ball is in his court but I'm going into this in good faith."
She added: "David Cameron and I are a world apart politically but, where we can, I'm determined to do business in the interests of the people of Scotland and across the UK."
She said she would have a "constructive and business-like" relationship with the prime minister.
The two leaders shook hands on the front steps of Bute House as Mr Cameron arrived. Mr Cameron left the building shortly before 11:00, almost an hour after he had arrived.
The two sides agreed to hold more regular discussions in the future, possibly quarterly.