SNP to take control of two House of Commons committees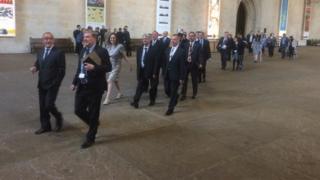 The SNP will be given control of two House of Commons select committees, the BBC understands.
The nationalists won 56 of the 59 Westminster constituencies at last week's General Election.
That resulted in the political party being the third largest, behind the Conservatives and Labour.
Parliamentary convention dictates that the official third largest party at Westminster gets to chair a number of select committees.
It is expected that the SNP will take over the chairmanship of the Scottish affairs committee and another which is yet to be decided.
Following the election, the new political landscape in Scotland has resulted in just one MP each for the Conservatives, Labour and the Liberal Democrats.
2015 election results map