MSPs scrap link with MPs' salaries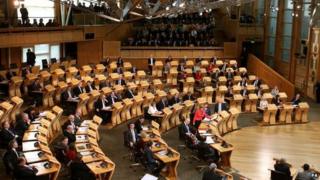 MSPs have voted to scrap the link between their pay and the salary of Westminster MPs.
MSPs are paid 87.5% of an MP's wage and were in line to get a 9% increase after the general election.
But leaders at Holyrood agreed it was "politically unthinkable" for MSPs to accept the increase in the current economic climate.
Instead pay rises will be linked to inflation, similar to other public sector employees.
At the moment politicians at Holyrood receive just over £58,000, while an MP's basic salary is £66,396.
The Independent Parliamentary Standards Authority (Ipsa) recommended that MP pay should rise to £74,000 per annum after the 2015 general election.
Motion passed
This would have seen MSPs' basic salaries increase to about £64,750.
Ipsa also recommended cuts to perks such as meal allowances and taxis, a less generous pension scheme and the trimming of "golden goodbyes" paid to retiring MPs.
MPs cannot block it because they handed control of the decision to the independent body in the wake of the 2009 expenses scandal.
But on Tuesday MSPs unanimously passed a motion ending the connection between the two salaries.
This means from 1 April, MSPs will have an annual salary of £59,089.
Scottish Parliament Salaries scheme
Office
Annual salary
First Minister
£85,598
Lord Advocate
£58,013
Solicitor General
£41,951
Minister
£44,406
Junior minister
£27,816
MSP
£59,089
Under the new Scottish Parliament Salaries scheme the First Minister is entitled to receive £85,598 in addition to their MSP salary.
In effect, this would mean that Nicola Sturgeon could earn £144,687, just over £2,000 more than the Prime Minister, who currently earns £142,500.
But a spokesman for the Scottish government said Ms Sturgeon would keep to a voluntary Scottish ministerial pay freeze, agreed in 2009, giving the remainder to a fund to boost public spending.
This means her salary will remain at £135,605.
All Scottish Cabinet Secretaries and Ministers also agreed to a pay freeze at 2008/09 levels.
In July 2013, the then First Minister Alex Salmond rejected as "ludicrous" the Ipsa plans to increase the pay of elected parliamentarians.
He said: "Pay for MPs - and MSPs - should not rise beyond the limits of the restraints currently placed on public sector pay.
"It is ludicrous to suggest that parliamentarians should be given anything beyond these norms, at a time when public sector workers are having to make do with much, much lower pay increases."
Scottish Labour's Paul Martin echoed those comments.
He said: "Given the harsh reality of the current economy and the struggles facing families, I hope common sense will prevail and these proposals will be thrown out after the consultation process."