Scottish party leaders admit taking cannabis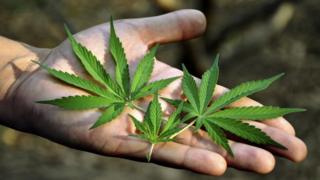 Three of Scotland's four main political party leaders have said they had taken cannabis when they were younger.
Nicola Sturgeon and Scottish Conservative leader Ruth Davidson both said it had made them feel sick.
Lib Dem leader Willie Rennie said he had taken it "in his youthful days".
Scottish Labour leader Jim Murphy told the Glasgow University debate between the party leaders that he could not remember, but later clarified that he had never taken drugs or sniffed glue.
Mr Murphy had told the audience at the university's Queen Margaret Union that sniffing glue was a "working class thing to do" in the Glasgow estate where he grew up.
'Awfully sick'
Their comments came during a debate between the four senior politicians at Glasgow University's Queen Margaret Union.
The leaders were commenting on research by the Institute for Social and Economic Research which said up to £900m a year could be raised through taxation of a regulated cannabis market, and were asked if they had tried the drug.
Ms Sturgeon, the Scottish first minister, said: "I'm actually on record as making an admission on this once, probably, possibly at this university although not at this union, but it made me awfully sick."
Ms Davidson said: "I went to Buckhaven High School, what do you think? I'm with Nicola, once or twice and it made me feel really sick."
Mr Rennie said: "Yes, in my youthful days."
Mr Murphy, who was raised in Arden in south Glasgow, said he could not remember if he had taken the drug.
He added: "When I was growing up, and it was a long time ago, in the housing scheme that I lived in, glue sniffing was the thing.
"At that time, drugs, and I'm giving away my age, it was just a kind of working class thing to do, kind of sniffing glue out of crisp pokes.
"It was a dreadful, harmful thing that was in that community at the time."
Open debate
After the event, a spokesman for Scottish Labour said: "Just to be clear, Mr Murphy has never taken drugs.
"The point he was making at the Glasgow University debate was that when he was growing up drugs weren't as widespread and that the harmful thing for many people back then was glue sniffing. For the record that's not something Mr Murphy has tried either."
Former Lib Dem minister Norman Baker resigned from the Home Office in November, claiming Home Secretary Theresa May suppressed proposals to reform drugs policy.
Mr Rennie said this was a "despicable" decision and called for an open debate on drug use in the UK "based on facts and science".
Ms Sturgeon and Mr Murphy echoed his call for an open debate on drugs but said cannabis should not be legalised, citing evidence linking it to mental health problems.
Ms Davidson said: "I think some things are worth more than money, and the health of our nation is one of them."