Sturgeon 'not convinced' by assisted suicide law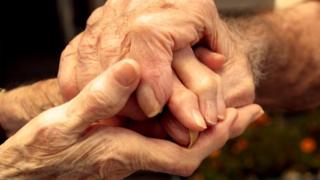 The first minister has said she is "not convinced" by new legislation to allow assisted suicide.
Nicola Sturgeon said she believed the priority should be to help people live.
The Assisted Suicide Bill would allow those with terminal or life-shortening illnesses to obtain help in ending their lives.
It is the second attempt to legislate for assisted suicide at Holyrood, after the first was defeated by MSPs in a free vote in 2010.
Ms Sturgeon said: "I voted against it the last time and, although we are not near another vote yet, I haven't been convinced about assisted suicide this time.
"I believe we should support people to live and I am therefore in favour of good quality palliative care.
"There also remains a major stumbling block to assisted suicide: How could you have sufficient safeguards?"
The first minister's comments, in an interview with the Scottish Catholic Observer, were welcomed by those opposing the proposed new laws.
Dr Gordon Macdonald, spokesman for Care Not Killing (CNK), said: "This is a very welcome declaration from Scotland's First Minister who rightly highlights the dangers of assisted suicide and correctly points out how difficult it would be to protect the most vulnerable, were the law to be changed.
"As MSPs examine these proposals more closely, increasing numbers are coming to the conclusion that they are unworkable and ill conceived."
It is not illegal to attempt suicide in Scotland, but helping someone take their own life could lead to prosecution.
Holyrood's Health Committee has concluded its evidence-gathering on the Bill at stage one, and is expected to produce its report in due course.
The Bill, which contains a series of safeguards which aim to prevent abuse of the legislation, was brought forward by the late independent MSP Margo MacDonald, who died last year after a long battle with Parkinson's disease.
It is now being championed by Green MSP Patrick Harvie, who said there was "substantial public support" for the principle behind the legislation.