Scottish Labour 'will keep free university tuition'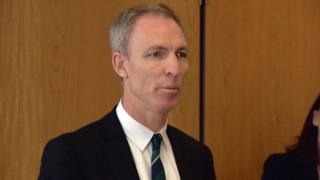 A Scottish Labour government would keep free university tuition for Scottish students, Jim Murphy has said.
He also said the party would set up funding to "properly support" Scottish universities alongside Labour's plan to reduce tuition fees in England.
However, the SNP has accused Mr Murphy of "shameless hypocrisy."
The party said that both he and Labour "cannot be trusted" on tuition fees as they were the party that introduced them in the first place.
The Scottish Labour leader was speaking to students in Glasgow.
He said: "I want young Scots to be able to train to be doctors, teachers, lawyers, engineers, scientists and much more no matter their background or how much money their parents have.
"That was why Donald Dewar abolished tuition fees in the first place."
He also announced that a Labour government at Holyrood would set up a funding package to offset any negative consequences of Labour's policy to reduce tuition fees in England.
'Bitter memories'
Gordon Maloney, president of NUS Scotland, said: "Today's welcome announcement marks a broad consensus against fees for Scottish students, and against charging in Scottish higher education, which should settle the debate once and for all."
He added: "Many students still have bitter memories of the betrayal on fees at Westminster and it's vital that commitments such as today's are kept to, if not exceeded.
"We must see all parties back up their words with action. We'll continue campaigning, ahead of the Holyrood elections, to ensure all prospective MSPs, and parties, are fully committed to free education and to ending student poverty in Scotland."
---
Analysis
By Glenn Campbell, BBC Scotland political correspondent
In England, universities can now charge up to £9,000 a year in tuition fees.
Labour has promised to cut that to £6,000 if it wins the UK general election, plugging the funding gap from public money.
Today, the Scottish Labour leader, Jim Murphy, said the Scottish share of that extra spending should be used to offset the impact of this policy on Scottish universities.
He also promised to maintain the SNP government's policy of not charging Scottish students to study at Scottish institutions.
But First Minister Nicola Sturgeon accused Mr Murphy of a cynical about-turn on fees, given his past support for them at Westminster.
---
Labour 'panicking'
The SNP said that students in Scotland "won't be fooled by Jim Murphy's shameless hypocrisy on tuition fees."
Stewart Maxwell, MSP for West Scotland, added: "Labour introduced tuition fees - and then abandoned students further when they introduced top up fees. As a result, students south of the border now face fees of up to £9,000 per year.
"Mr Murphy himself voted to impose tuition fees, describing the idea of free tuition as 'incoherent, indefensible and unrealistic'.
"His announcement today is all about panicked attempts to grab headlines - and nothing to do with defending the principle of free education."
Scottish Conservative young people spokeswoman Liz Smith said: "We're used to the SNP being determined to bankrupt Scotland's universities, jeopardising their world-class status in the process.
"Now, in his latest desperate search for policies, Jim Murphy has plucked out this one, despite it being widely criticised by universities themselves."