Lib Dems' legal bid to ban consensual stop-and-search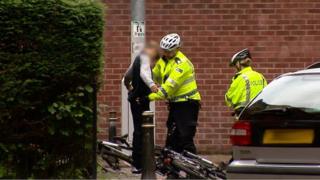 The Scottish Lib Dems have announced they are to bring forward legislation to ban consensual stop-and-search.
Police Scotland told MSPs last June that it would abolish consensual stop-searches for children under 12.
However, figures obtained by BBC Scotland revealed that 356 children in that age group had been stopped and searched since then.
First Minister Nicola Sturgeon said Police Scotland was now considering ending non-statutory stop-and-search.
Now the Lib Dems will table amendments to the Criminal Justice Bill to make the unregulated tactic illegal.
The party said their amendments would:
Put all stop-and-searches on a statutory footing
Seek to put in place a statutory Code of Practice where the exercise of stop-and-search is set out clearly
Rebalance police powers so that police can protect the public whilst ensuring robust safeguards to protect civil liberties
Maintain existing extensive police powers to undertake evidence-led stop-and-search for drugs, guns and knives, based on officers having reasonable suspicion.
Scottish Lib Dem justice spokeswoman Alison McInnes MSP said: "The only way to guarantee for good that stop-and-search will be accountable and regulated is for parliament to legislate. My amendments will put a stop to discredited consensual stop-and-search.
"The revelations from earlier this week showed that a memo from the executive isn't sufficient to ensure a fundamental change of practice.
"My amendments will in no way limit the extensive and appropriate statutory powers that police have to search for drugs, guns and knives. This is about ensuring a healthy balance between civil liberties and protections."