General Election 2015: Labour's Ed Miliband 'not focusing' on doing SNP deal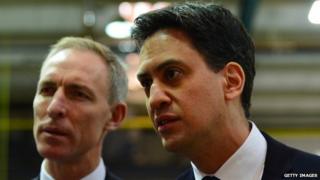 Labour leader Ed Miliband said he was concentrating on winning a majority at the general election and not focusing on doing a deal with the SNP.
During a trip to Glasgow, he told the media the fight was between his party and David Cameron's Conservatives.
With predictions of another hung parliament after the 7 May poll, speculation is high Labour and the SNP could enter into a power agreement.
SNP leader Nicola Sturgeon has talked of a Labour - but not a Tory - deal.
Labour won 41 seats north of the border at the last general election and Mr Miliband said he was "determined" to retain them all.
However, his party trails Ms Sturgeon's SNP in the polls north of the border and one option is that the Nationalists could hold the balance of power if no party secures an overall majority.
Mr Miliband said: "The question on the ballot paper, actually I think Nicola Sturgeon said this yesterday, is who is going to be prime minister, is it going to be David Cameron or is it going to be Ed Miliband?
"She herself said that is the question facing the electorate.
"If that is the question facing the electorate, and if people want to get rid of David Cameron and a Tory government, then the right thing to do is to vote Labour at the general election."
Mr Miliband was in Glasgow on Thursday campaigning with Scottish Labour leader Jim Murphy and Shadow Scottish Secretary Margaret Curran.
When asked if he would do a deal with the SNP if Labour failed to secure an overall majority, Mr Miliband said: "I have only one focus, which is a majority Labour government.
"I'm going to put before the British people a manifesto, there will be a separate and distinct Scottish manifesto, which I think is important, and then I will say to people 'I want you to elect a majority Labour government'.
"That is what I think the country needs and that's where all of my focus is, that is what all of my energy is on."
'Don't want'
Pressed again on the possibility of any deal with the Nationalists, he said: "I couldn't be clearer - I think Jim (Murphy) has said we don't need, we don't want and we're not planning for that, and that is my position too."
During his visit to Scotland, Mr Miliband confirmed that a "Home Rule bill for Scotland" would be introduced within the first 100 days of a Labour government.
He also announced plans to immediately devolve control over the work programme to Holyrood by forcing a vote on a bill to pass the powers to Scotland before the general election.
The UK government has published plans for new powers for the Scottish government based on the recommendations of the Smith Commission.
However, the SNP said any suggestion the bill would amount to real Home Rule was "laughable" as 70% of taxation and 85% of welfare spending would remain under Westminster control.
---
General Election 2015 - Campaign countdown
Stay on the campaign trail with the BBC by following our live daily coverage of policy announcements, photo calls, visits, statements and sound-bites.
---
SNP deputy leader Stewart Hosie said: "Trying to claim that this is Home Rule could be reported under the Trade Descriptions Act for being completely untrue.
"Recently, Lewis MacDonald MSP specifically denied that Labour had ever talked about 'Home Rule', which renders the claims of Ed Miliband and Jim Murphy laughable.
"People in Scotland don't believe Ed Miliband - who has achieved the extraordinary feat for a Labour leader of having even worse poll ratings in Scotland than the Tory Prime Minister.
"The way to achieve the real powers of Home Rule is to vote SNP in May, for a strong team of SNP MPs holding the balance of power at Westminster."
All three main Westminster parties have pledged to ensure the new Scotland Bill becomes law, whoever wins the general election in May.
Last week the prime minister confirmed the legislation in the Smith commission's proposals would be in a Conservative government's first queen's speech if it forms the government after May's election
But Scottish First Minister Nicola Sturgeon has said UK ministers would get a veto on Scottish powers in key areas.