SNP to back UK fracking moratorium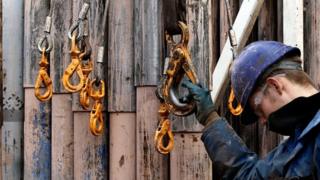 The SNP is to back a moratorium on fracking in the UK when the House of Commons votes on the issue on Monday.
The Scottish government has also said it will outline plans to strengthen its "precautionary approach" to fracking next week.
Scottish Labour leader Jim Murphy has said he would not allow fracking in Scotland without sufficient safeguards.
But environmental groups said Holyrood already had the power to block shale gas extraction.
The Scottish Parliament currently has power over planning issues but the Smith Commission has recommended devolution of onshore licensing and mineral access rights.
However, those new devolved powers will not come to Scotland until after May's UK General Election.
Last week, the UK government agreed to exclude Scotland from laws making it easier for fracking firms to drill for shale gas.
The UK government is pushing for the development of a shale industry in the UK, claiming it would create jobs and growth, reduce energy prices and cut the country's reliance on gas imports.
But opponents have raised fears that fracking causes earthquakes, can pollute water supplies, and could lead to inappropriate development in the countryside and damage house prices.
There are also concerns over the impacts for the climate of exploiting more fossil fuels.
The Infrastructure Bill currently going through Westminster is set to allow underground access in England, Wales and Northern Ireland but not Scotland after the UK government agreed to exclude Scotland from laws making it easier for fracking firms to drill for shale gas.
SNP MP Mike Weir, the party's Westminster energy spokesman, told BBC Scotland that his party would vote in favour of an amendment to the bill which would see a moratorium put in place on onshore fracking across the UK.
'Impacts of exploration'
Speaking to the Good Morning Scotland programme, Mr Weir said: "The problem here is that the powers are to be transferred to the Scottish Parliament under the Smith Commission. That is unlikely to happen for some time.
"There are serious issues as to what happens in the meantime, both with existing licences being granted by the UK government and the prospect of the UK government granting licences in the meantime.
"We think there should be a moratorium which would mean that before there could be anything going forward with fracking there would have to be an assessment to take account of the impacts of exploration on climate change, environment, health and safety, and the economy."
Mr Weir said: "Labour need to clarify that their Scottish MPs will join the SNP in voting for a UK moratorium on fracking."
He said that Labour's Scottish environment spokeswoman Sarah Boyack had refused to say how Scottish Labour MPs would vote in Monday's debate.
---
What is fracking and why is it controversial?
Fracking is shorthand for hydraulic fracturing and refers to how the rock is broken apart by high a pressure mixture.
Fracking allows drilling firms to access difficult-to-reach resources of oil and gas.
In the US it has significantly boosted domestic oil production and driven down gas prices.
Opponents say the process releases potentially carcinogenic chemicals into nearby groundwater.
The industry suggests pollution incidents are the results of bad practice, rather than an inherently risky technique.
---
Scottish Energy Minister Fergus Ewing has written to his UK counterpart Ed Davey, calling on the UK government not to issue any more licences for unconventional oil and gas in Scotland.
Chemical firm Ineos has bought the license for shale gas exploration and development across a 329 square kilometre area around its Grangemouth power plant.
Friends of the Earth Scotland head of campaigns Mary Church welcomed the SNP's support for the amendments to the Infrastructure Bill, but said it was not a declaration of full support for a moratorium or ban in Scotland.
She added: "It is clear that the Scottish government could call a halt on unconventional gas exploitation immediately using existing powers.
"It is now only a small step from this stance at Westminster to the Scottish government implementing a moratorium on unconventional gas and fracking while they fully examine the impacts of this industry on health, climate, and the environment, and address gaps in the regulatory framework.
"Even better, the Scottish government should just ban this unnecessary industry altogether and focus on making the most of our abundant renewable energy resources."
WWF Scotland director Lang Banks said: "It's now time for the Scottish Government to come off the fence and finally rule out the development of shale and other unconventional fossil fuels north of the border."
Meanwhile, Mr Murphy said that if he was in power at Holyrood after the 2016 election he would ensure there would be no onshore fracking in Scotland until it had been shown beyond all doubt that it could be carried out safely.
'Rightly concerned'
Labour has lodged its own amendment to the Infrastructure Bill calling for fracking activity to only be allowed once safeguards including environmental impact assessments and independent inspections of the integrity of wells are carried out.
Mr Murphy called on the Scottish government to use its existing planning powers now to stop any onshore fracking immediately.
He said the UK government should suspend the current licensing round in Scotland until new powers are devolved through the Smith Agreement process.
"People are rightly concerned about shale gas," Mr Murphy said.
"They are worried that it will be imposed on their community against their will and without their consent. I will not let that happen."
Ken Cronin, the chief executive of UK Onshore Oil & Gas, said: "Within 15 years Scotland will be a net importer of gas and at the mercy of international markets for its gas without shale.
"We have had a well regulated industry in Scotland for many decades. We have drilled over 30 wells in the last 20 years.
"One of the first hydraulic fractures in the UK took place in Airdrie nearly 50 years ago and fracking also took place inside the Glasgow city boundary in 1989 at Easterhouse. Scotland is therefore no guinea pig."