NHS in Scotland to receive extra £65m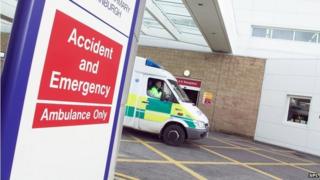 The Scottish government has announced that it will make an extra £65m available to the NHS in the next financial year.
The funding boost will make sure that all area health boards receive "uplifts" which are at least 1% above the rate of inflation, ministers said.
It comes after winter pressures resulted in a busy week for Scotland's accident and emergency departments.
Some planned medical procedures had to be postponed as demand soared.
The additional cash will see territorial health boards receive an average boost of 3.4% in the next financial year.
The funding comes from an additional £127m of Barnett consequentials passed to the Scottish government.
NHS 'challenges'
Health Secretary Shona Robison said the increase in funding demonstrated the Scottish government's commitment to protecting the NHS.
She said: "This government has not only protected the NHS budget, but increased it.
"Our NHS services face challenges as a result of the increase in patients, with more complex illnesses, and the rising costs of expensive new drugs.
"This £65m additional investment increases the resources available to health boards, will help alleviate these pressures and ensure our NHS can continue to deliver effective and sustainable care to all patients across Scotland."
She added: "We're clear that all patients in Scotland should be treated as quickly and as effectively as possible, with the right care, in the right place, at the right time.
"With this increase in funding, health boards are being given more support to achieve this."
Waiting times
In a separate development, Scottish Labour claimed the SNP's waiting time law had been breached more than 12,000 times since it was introduced, as a result of pressure on Scotland's NHS.
The party said analysis it had conducted showed that the Scottish government's Treatment Time Guarantee had been breached every month since it was introduced in 2012.
Speaking on the BBC's Sunday Politics Scotland programme, Scottish Labour leader Jim Murphy said the Scottish government owed an apology to every one of the patients who had not been treated within the legal waiting time limit of 12 weeks.
Mr Murphy said: "The Scottish government has broken their own waiting time law over 12,000 times.
"That's 12,000 patients who have had to wait over 12 weeks for treatment that among others include knee and hip replacements, cataracts operations or hernias.
"And since the target was introduced the numbers of people waiting has only increased."
'Significant improvement'
Health Secretary Shona Robison said the claims by Mr Murphy had "backfired".
She said: "Over 626,000 patients, or 98% of all NHS patients, have been treated within the 12-week waiting time guarantee since it was introduced in 2012.
"That is a testament to the hard work of our NHS and is in stark contrast to the record under Labour, who not only failed to introduce a waiting time guarantee but left 35,000 patients languishing on hidden waiting lists for years.
"Scotland's NHS has improved significantly from the days when the best Labour could do was to treat 85% of patients within 18 weeks."