Second former SNP MSP joins Greens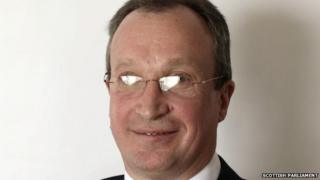 MSP John Wilson has become the second former SNP member to join the Scottish Greens, it has been announced.
The Central Scotland MSP quit his former party after its decision to endorse an independent Scotland's membership of Nato.
Mr Wilson, who will continue to sit as an independent, said the Greens were a "real alternative" to the issues facing Scotland.
In October, former SNP politician John Finnie also joined the Greens.
Mr Wilson said: "I am of the view that the Scottish Green party provides a real alternative direction to the issues and challenges facing Scotland.
"The Scottish Green party is the best vehicle for reflecting my view on environmental, social and economic policies and is providing leadership on key issues such as fracking, land ownership and a citizens income."
The pro-independence Scottish Greens said they had experienced a post-referendum membership surge, from 1,700 to more than 7,500.