Scots councils in £10bn funding deal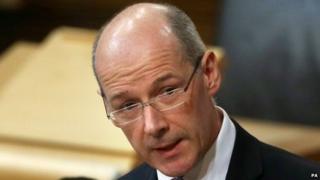 Scottish local authorities will get funding of almost £10.85bn in the next year to run vital services, Finance Secretary John Swinney has announced.
In return, they will have to freeze council tax for the eighth year in a row and provide places for all probationer teachers who need one.
Mr Swinney told Holyrood the deal was fair, given spending constraints.
Labour said ministers had abandoned commitments on teacher numbers and class sizes.
Speaking in parliament, Mr Swinney said: "This settlement is set against the challenging fiscal environment and the austerity measures which are set to continue, with further damaging cuts from Westminster to public services.
"Despite that context, the terms of the settlement offered to local government continues to represent a very fair settlement."
Mr Swinney said additional funding of £241m would help fund services such as free school meals for P1-P3 children and the Scottish Welfare Fund.
Labour's Sarah Boyack said a pledge by Mr Swinney to work for an "educational outcomes" based approach was code for dropping the commitment to keep up teacher numbers and cut class sizes in the early primary years.
"Local government finance is broken," Ms Boyack said, adding: "Costs have risen for local authorities by 10% since 2007.
"The Scottish government now controls 82% of local authority budgets. People on lower incomes in disadvantaged areas are the hardest hit by cuts to local government."