Radical Independence Campaign launches 'People's Vow'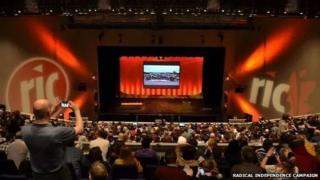 More than 3,000 people have gathered in Glasgow for the Radical Independence Campaign's conference.
The campaign supports a left-wing vision of an independent Scotland.
Co-founder Cat Boyd said the movement was launching a "People's Vow" - a direct reference to the Vow of more powers made by No campaigners.
She said the People's Vow would cover areas such as protecting public services from cuts, land reform and getting rid of Trident.
This is the third RIC conference. The organisation played a prominent role in the campaign for a "Yes" vote ahead of September's independence referendum.
---
The People's Vow
The People's Budget - mapping the alternative to austerity
Ending fracking before it takes hold
Land for all - Put our natural resources in the hands of the people
Equality not as an afterthought
Democracy before profit - Work with other forces across Europe and the US to stop the Transatlantic Trade & Investment Partnership
---
Speakers at the event at the Clyde Auditorium included Ms Boyd, Scottish Greens co-convener Patrick Harvie and Robin McAlpine from the Common Weal project.
The campaign is calling for "transformational change" and said the conference would showcase "the breadth and diversity of the campaign for social and economic justice in Scotland and beyond".
Former Scottish Socialist MSP Colin Fox, broadcaster Lesley Riddoch and author and playwright Alan Bissett also addressed delegates, along with trade unionists, activists and representatives from other independence movements including in Catalonia and Quebec.
Ms Boyd told BBC Scotland: "The aim is to show people how our movement is still growing.
"They say that history is written by those who are victorious. Well, on 18 September, the people who won at the ballot box are those who will lose in the long-run.
"You only have to look at the chaos in Scottish Labour, the crisis at Westminster, to see that."
She said the People's Vow was a reference to the Vow made by the "unholy alliance" of Conservative, Labour and Liberal Democrat politicians campaigning for a No vote in the referendum.
"We want to create a people's budget to protect public services from the worst of the cuts," she said.
"We want to call for radical land reform and we want to embark on a campaign of civil disobedience against Trident."
She said the gulf of opinion about the Trident nuclear missile system, which is based at Faslane on the Clyde, between the people of Scotland and the politicians at Westminster was "huge".
"People don't want Trident in Scottish waters and they don't want it in anybody else's either," Ms Boyd added.
She said that the campaign also vowed to stop Scotland's natural environment being sold to the highest bidder and to bring pressure for fracking to prohibited.
---
Radical Independence Campaign: What do those attending say?