Alex Salmond will not challenge Danny Alexander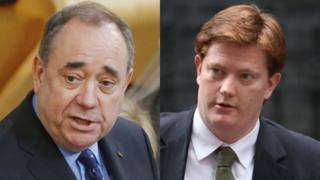 Alex Salmond has dismissed newspaper reports that he could stand against UK government minister Danny Alexander in the general election next May.
Mr Salmond told BBC Scotland that if he was to stand it would be in the north east rather than Mr Alexander's Inverness constituency.
He also said it was unlikely that the SNP would form a coalition government with Labour at Westminster.
Mr Salmond stood down as Scottish first minister on Tuesday.
He is currently considering whether or not to stand for a seat at Westminster in next May's election, but has said he intends to continue as an MSP.
Several media outlets, including the Scottish Daily Mail, have suggested that Mr Salmond could challenge Mr Alexander, the Lib Dem chief secretary to the Treasury, for the Inverness, Nairn, Badenoch and Strathspey constituency.
'Political home'
Mr Alexander won the seat with a majority of 8,765 in 2010, but Lib Dem support is widely expected to collapse at the next general election.
During an interview with BBC Radio's Good Morning Scotland programme, Mr Salmond was asked whether the speculation was "nonsense".
He replied: "It was in the Daily Mail so what do you think? 'Is it nonsense or not?' is a bit of tautology if something appears in the Daily Mail, is it not?"
Mr Salmond added: "I have said on many, many occasions that my political home is in the north east of Scotland.
"Whatever else I do in politics would be in the north east of Scotland and I will be available to stand in the north east of Scotland in one capacity or another."
While he said Westminster had "limited appeal for me", he argued there could be "an opportunity for Scotland", as the nationalists could potentially hold the balance of power in a hung parliament.
That situation could result in the "best possible guarantee for progress" for Scotland, he argued, as SNP MPs could ensure promises made by Westminster leaders in the run-up to the independence referendum of substantial new powers for Holyrood are delivered.
But Mr Salmond, who will be succeeded as first minister by Nicola Sturgeon, said: "It's not necessarily the case that my presence is required to have that opportunity for Scotland."
'Scotland's interests'
He repeated previous pledges that the SNP would never do a deal with the Tories at Westminster.
Ms Sturgeon has already ruled out helping the Conservatives if David Cameron fails to win an overall majority of MPs in May - but has indicated she could work with Labour if certain conditions were met.
Mr Salmond said: "The position is clear, we won't give succour or support to the Conservative Party, but other possibilities could be pursued in Scotland's interests."
But a formal coalition with Ed Miliband's party is "unlikely", he added.
Mr Salmond said: "Your best influence on these matters is usually on a case-by-case basis, you take each policy as it comes and negotiate substantially on the point you are trying to pursue.
"I'm not saying other options are ruled out, but I think a coalition is unlikely. It would be far better, I think, from a Scottish point of view, to extract the maximum advantage on a case-by-case basis.
"In the case of Westminster, a strong block of SNP MPs would have huge advantage for Scotland, in that sense if you hold the balance you hold the power."
The selection of the parliament's nominee for first minister can be watched live from 14:40, or later on demand, at BBC Scotland's Democracy Live website.