Neil Findlay 'closing gap' for Labour leadership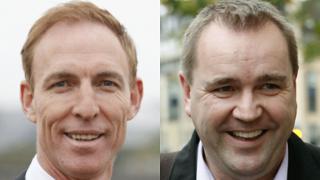 The campaign for Neil Findlay to be the next Scottish Labour leader has claimed it is closing the gap on frontrunner Jim Murphy.
The Findlay campaign has indicated the MSP is polling 6% behind his rival ahead of the result on 13 December, according to analysis seen by the BBC.
However, Mr Murphy has won more support from declared elected Labour members and local parties than his rival.
Scottish Labour uses an electoral college to decide the winner.
Party members and Scottish MPs, MEPs and MSPs each get a say in electing their new leader, as well as unions and other affiliated organisations.
The Scottish Labour leadership contest follows the resignation of Johann Lamont, who stood down from the post while accusing Westminster colleagues of treating the party in Scotland like a "branch office".
Mr Murphy, an MP and former Scottish secretary, is seen as a favourite to win the leadership, which also being contested by MSP Sarah Boyack.
The Findlay campaign analysis suggested Mr Findlay had 42% support, behind Mr Murphy's 48%.
The document also projected:
Mr Findlay had 40% support from party members, after splitting the 19% of Constituency Labour Party (CLP) branches who did not nominate in proportion to those who did.
Mr Findlay had 69% of support of affiliates, based on support from nine out of 11 nominating unions and taking into account past experience of members voting in line with their union's recommendation.
Mr Murphy was on track to win the backing of most Scottish Labour parliamentarians, but added that 15 elected members were yet to state a clear preference for one candidate.
A source in the Findlay camp said the contents of its internal briefing could be "worrying" for Mr Murphy's campaign.
However, of those who have declared, Mr Murphy has been backed by 43 Scottish Labour parliamentarians, 105 councillors, 34 CLP branches and four union or affiliate organisations.
A total of 12 parliamentarians have backed Mr Findlay, along with 18 CLP branches and 10 affiliate or union organisations.
A spokesman for Mr Murphy, said: "Jim has received more support from parliamentarians, local parties and councillors than the other two candidates put together
"He also has the backing of two important trade unions and the young activists of the party.
"Jim has the support of so many people across the Labour movement because he has the experience and the ideas to be first minister of Scotland.
"We are confident - but not complacent - that Jim will win the votes of thousands of Scottish Labour Party members and trade unionists across Scotland."
At the weekend, the election for the SNP's new deputy leader produced an unexpected result, after MP Stewart Hosie won against the perceived frontrunner, Transport Minister Keith Brown.
There will be a debate between the three labour leadership candidates on a special edition of Scotland 2014 on BBC2 at 22:30.