Devo More: What does business want?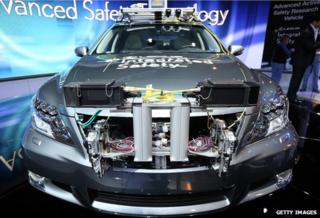 Scotland could become a world leader in driverless cars, urban drones and animaloid robots. Yes, animaloid. We're already leaders in subsea robots, so why not?
This could be the first country to develop a fridge which orders your milk for you, using 'blockchain' technology, by which machines use sensors, control the supply chain, and trade with each other. What this needs, of course, are the necessary regulatory powers at Holyrood.
Such ideas are within more than 400 group submissions to the Smith Commission. They come from a bunch of enthusiastic tech-heads who may not be wholly on top of the complexities of constitutional reform, but who have a dream and want Scotland to pursue it.
There are other very specific cases for reform which I've gleaned from going through the submissions. The Metric Association sees further devolution as a means to get kilometres on to Scottish road signs. Once achieved, how could Whitehall possibly resist the unstoppable force of decimalised logic?
Foresters want any power devolved that would help meet the Scottish government's tree planting targets, as they're currently being missed. Insolvency practitioners have not entered the spirit of things, instead wanting to reverse their bit of devolved law-making.
VisitScotland is clearly fed up with VisitBritain's focus on bringing tourists to the London honeypot. It's claimed Scotland gets marginalised, and there's "no evidence of success in promoting the nations and regions of the UK, which we believe to be a core remit of VisitBritain". There's a strong suggestion of a broader range of targets for the British body, to move people around Her Britannic Majesty's realm.
The National Farmers Union in Scotland doesn't want Holyrood to get hold of Inheritance Tax, anticipating that MSPs would ramp it up and hit farm transfers within families. But it does want a Scottish voice at the top table in Brussels.
Electricians want consumer protection to be devolved. Holyrood could require registration of accredited sparkies, thus keeping cowboy operators at bay. A worthy aim, maybe, but it also looks like an old-fashioned bid by tradesmen to protect their commercial interests, which any guild member from a medieval burgh would quickly recognise.
And Bristol Airport doesn't want Holyrood to get control of Air Passenger Duty. Why? Because if Scots get it, then the Welsh Assembly will want it too. The cost of flying out of Cardiff would be slashed, see? And then where would aviation be on the English side of the Severn?
Fairer and wealthier
The Smith Commission has a lot of reading to do. In addition to the 400 or so group submissions, it has 17,000 individuals' emails, letters and signatures on petitions.
Of 2,650 analysed by the Smith Commission's [smith-commission.scot] people by mid-week, 169 specifically wanted energy devolved. There were similar numbers across a range of welfare and pension responsibilities. And smaller numbers for devolution from Westminster of health and safety (36), business and consumer regulation (54) and broadcasting (84).
A few broad themes have been detected for what people think a new tranche of devolved powers can deliver; a fairer society and eradicating inequalities, the tackling of child poverty and boosting economic growth. All are worthwhile outcomes, if they can be achieved. But it's economic growth that's foremost on my beat, so that's where I looked.
The case was put, during the referendum campaign, that the 'levers of power' with independence would be used to boost growth. That case is still being strenuously made by campaign group Business for Scotland and others who remain dedicated to devolving as many powers as possible, and independence eventually.
Its submission makes the case for 'powers for a purpose', on condition that Westminster powers are only 'retained for a reason'. That is, the case needs to be made for powers to remain reserved, rather than putting the burden of evidence on those making the case for devolving them.
But given the outcome of the referendum, what, I wondered, do less politicised business-people want to see for Holyrood if it's to stay within the United Kingdom - the people who would deliver on that boost to economic growth?
There are a lot of answers to that question amid submissions to the Smith Commission. It's an interesting read if you have a lot of spare time and want to see how lobbying works.
Here are some of the big issues and debates; around tax variation, research funding, the key sectors of finance and energy, export promotion and broadcasting.
Neutral no longer
For many businesses and trade bodies, the starting point is to tell Lord Smith that they were neutral in the referendum debate, but not any longer. Perhaps it's because they regret having kept schtum before they realised the stakes and the powerful momentum at play: perhaps because the decisions now are no longer just for Scottish voters.
Some trade bodies continue to listen to memberships that remain split. The Scottish Chambers of Commerce, for instance, offer some interesting views, but they're neutral on the big questions of income and corporation taxes.
They favour immigration powers, notably for fresh graduate work permits. And they are among several of the big business lobby groups pointedly saying that MSPs are going to have to raise their game if they're to take on more powers. The Chambers want "a clear route map towards improved performance" from legislators.
The Scottish Council Development and Industry (SCDI) is often to be found sitting on a fence, having the most diverse membership, including the public sector. Not this time. It's for a lot of devolved powers, including rates and bands for "significant further devolution of income tax", some or all of VAT raised in Scotland, and tax incentives for business research and development.
The Institute of Directors is also less conservative than you might expect. It's for devolution of Air Passenger Duty, R&D tax credits, more of a role for Holyrood in offshore energy taxation, "radical thinking" on a Scottish green card for immigrants, and a cut in the number of Scottish councils, down from 32.
But the IoD also wants to see the business plan clearly set out: "Every change has to be shown to have benefits and specified outcomes and benefits to the people of Scotland".
SSE has a similar test for its sector: no change should harm the UK's single energy market. It's pointed out that maintaining that cross-border market had been supported by unionists and nationalists alike during the referendum debate.
Higher costs
Many stress that they want to maintain the advantages of a fully open single UK market. There are numerous pleas not to meddle with valued UK-wide regulation and tax arrangements.
The Freight Transport Association says that any change to Vehicle Excise Duty, fuel duty or Air Passenger Duty would be unwelcome as these would "create distortions".
The Association of British Insurers asks for "protecting and maintaining the UK's single market to be an explicit goal of the Commission". It wants a broad consensus, with long-term commitments, implemented over a considered time-frame. Before any further income tax, it suggests that we see how the changes in the Scotland Act 2012 bed down.
Businesses are split between those who want change to be thought through and cautious, and those who want the politicians to get on with it - to end all this uncertainty.
It's hard to find any of those who foresee different income tax rates in Scotland welcoming the payroll costs that could entail - and only a few appear to have noticed that that's being introduced anyway, as a result of that 2012 Act.
At the Chemical Business Association, chairman Steven Cartlidge is particularly forthright: "Devolved powers equate to higher costs for business. We are unable to identify a single example of a devolved regulatory power resulting in lower business costs".
Safety first
Maintaining a single UK system for safeguarding health and safety at work is given a prominent place by the petroleum and chemicals sectors, and by construction.
At least two chemicals industry bodies argue that the Health and Safety Executive, Scottish Environment Protection Agency and the Environment Agency are already failing to co-operate, and urge that regulation doesn't get more complicated still.
Some oil companies want open access to globally mobile skilled labour. Yet Taqa and Talisman Sinopec assume that if Holyrood gets immigration powers, MSPs would make hiring even more difficult (even though the tone of the debate suggests the opposite).
They assume different tax rates would mean higher Scottish tax, being less attractive for mobile executives considering a move to Aberdeen. And nor do they like the new, more progressive approach already being taken at Holyrood to replacing stamp duty.
There's also concern that the industry's top priority - with soaring costs and a plummeting oil price - is reform of the UK Treasury's offshore exploration and production tax regime, which is anticipated next month. They don't want Scotland's constitutional debate to be a reason for further delay.
Devo 'broken'
In the construction industry, there is a rare voice asking an obvious question; how well have devolved powers been used so far. Across at Scottish Food and Drink, they think devolution has been "a resounding success". But Homes for Scotland begs to differ.
It claims public sector performance is "broken, with no real ownership", blaming a lack of "effective government management of the performance of local authorities".
"Our members remain highly frustrated with the lack of housing and infrastructure delivery in Scotland... Based on the evidence [of devolved powers so far], Homes for Scotland members have struggled to be positive about the likely benefits and success for further devolution".
Unintended consequences
The pensions industry is already struggling with George Osborne's revolution in tearing up the annuities market. Across several, slightly exasperated submissions, it urges Lord Smith to avoid any further complexity, least of all now, asking that any changes should be justified on the basis that they would boost the pension savings rate.
The Society of Actuaries leaves open the possibility that devolution might indeed help, but warns - as many do - of "unintended consequences".
The words 'evidence-based' are oft-used. Business wants to see the workings behind the claims for more powers, to weigh up costs and benefits.
The Scottish Food and Drink Federation, for instance, has concerns about divergence in regulation, tax, pensions and employment law: "We seek evidence and reassurances from both the Scottish and UK governments on how an effective business, regulatory and export environment can be supported by the devolution of further powers to the Scottish Parliament," it states.
You can sense that they know, or at least fear, that there won't be much working out figures in the margins before the Smith Commission's political deal is done. But they seem to hope that Lord Smith might listen. He is, after all, a big cheese in business.
That mention of exports is worth a detour. Those already exporting raise their drams to toast the UK's network of embassies. But the Scotch Whisky Association is among several groups to note that Scottish Development International (the export promotion and inward investment agency, jointly controlled by the Scottish government and Scottish Enterprise) is not working as well as it could with UK Trade and Investment.
Scottish Enterprise, meanwhile, has its own submission about the challenges in the economy, in which it appears to have misread the question on the exam paper. Or it did read it, but doesn't have an answer.
Air Passengers
If there's one tax which a lot of business would like to see devolved, it is Air Passenger Duty (APD). Credit for that goes to the airports and airlines for vigorous lobbying of other businesses. The CBI, which straddles the border, straddles the issue also, wanting APD reformed rather than devolved.
But that's just Scottish business. In a few cases (remarkably few), submissions have come from south of the border. Not only, as I've noted, does Bristol Airport dislike APD differing around the UK (which it already does in Northern Ireland), but Newcastle Airport's owner likes the idea even less.
If Scottish airports have APD abolished, they fear on Tyneside it would take passengers and routes away, and that there would be a £402m cost to their economy over the next 11 years.
North-East England's Chamber of Commerce amplifies the concern, and takes aim at the unionist parties' 'Vow' to grant Scotland extensive additional powers. It was "bizarre" and lacked any consultation. And retaining the Barnett Formula for funding Holyrood from Westminster is "entirely un-strategic".
From Northern Ireland, the voice of the province's fishermen is also to be heard, taking issue with the notion that Scots ministers should lead for the UK on European fisheries negotiations. Scotland may have 70% of the catch, but Holyrood ministers are not accountable to the industry elsewhere, they say.
Laboratory testing
The Scottish Life Science Association thinks Holyrood should take control of a share of the UK research councils budget, linking any grants to promises of collaboration between university researchers and industry. You can probably guess whose members would benefit from that.
But it cuts a lonely figure in the battle over research funds. There are strongly-voiced arguments from a wide range of other industry bodies, from pharmaceuticals to bio-industry, academics at the Royal Society of Edinburgh and universities that Scotland needs to remain part of the UK in distribution of funds.
This obviously reflects the fact that Scotland has long done disproportionately very well out of the share-out, and that research tends to involve a lot of cross-border collaboration.
It may also reflect moves by the Scottish government, post-referendum. I'm told Education Secretary, Mike Russell, is working up a plan to go ahead with a Scottish research funding regime anyway. Universities are gearing up for a battle over their autonomy.
The seabed
The Scottish Salmon Producers Association notes that the Crown Estate has become "iconic" in the devolution debate. Some people have the impression that it has to be the sovereign will of the Queen herself before her personal coastline can be used for commercial purposes.
Yet the Crown Estate turns out to have more friends than you might expect. The heaviest users of its leasing powers - those salmon farming and renewable energy - think that there should be more transparency in how its profits are deployed in coastal communities.
But the fish farmers say it's "working efficiently", and warn against devolving it, particularly if the new lease-holders are also the planning authorities. That way conflict of interest lies, goes the warning.
Broadcasting
Broadcasting is often left to last, though it's quite close to home for some of us. Social media has given some momentum to the view that broadcasters, and the BBC in particular, need to be taken in hand by MSPs, as a result of perceived bias in referendum coverage.
Business submissions to Smith dwell instead on market regulation. BT says investment would be hit by devolution, particularly if spectrum is being separately allocated in Scotland.
STV wants the Channel Three licences to remain as they are, with a "single framework being essential to STV ensuring delivery of high quality and impartial public service content to consumers".
The Glasgow-based broadcaster welcomes the BBC's growing spread of commissions from independent programme makers around Britain's nations and regions - a source of business in which STV itself is gaining ground. It wouldn't mind tax breaks for Scottish creative industries as well, mind you.
Channel 4 says the "current regulatory framework is effective in supporting the UK-wide public service broadcasting ecology".
PACT, the trade body for independent programme makers, doubts that devolution of broadcasting powers to Holyrood would lead to any more jobs in Scotland. One such company, Caledonia TV, takes the opposite view, saying devolved broadcasting would bring "a critical mass of commissions".
Where is the BBC in this? Central, you might think. But silent. It hasn't put in a submission. I asked why, and was told that - as with the referendum - the Corporation wants to protect its impartiality in reporting the debate.
That hasn't stopped the National Union of Journalists from taking sides (I hereby declare an interest, as an NUJ member). According to Scottish organiser Paul Holleran, not only does the union favour devolution of broadcasting, but it's going to carry out an inquiry into BBC Scotland's links with headquarters in London. That's a channel that could be worth watching.
"On purpose"
I could go on. And on. But you've suffered long enough.
If you want a good overview of the issues, I'd recommend the submissions from CIPFA, the public finance people, and from the big business consultancy KPMG.
The latter offers wise words from a US cabinet secretary, William Simon, which the Smith Commission might do well to heed, as indeed, might the UK Treasury: "A tax system should look like someone designed it on purpose".