Alex Salmond: I will miss weekly parliament grilling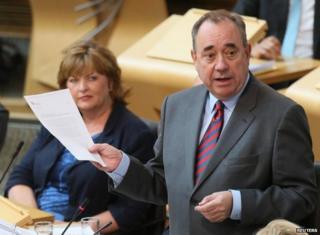 Alex Salmond says he is going to "miss" first minister's questions, ahead of his final grilling by the opposition before standing down from the job.
Mr Salmond, who said he had "a great run" for seven years in the role, said parliament had evolved to become the "grand inquest of the nation".
The politician, who is also stepping down as SNP leader, is preparing to hand over to Nicola Sturgeon.
Mr Salmond is staying on as MSP for Aberdeenshire East.
He has also not ruled out standing as an MP in the 2015 Westminster election.
Ahead of his final appearance at the parliament's weekly question time session, where he faces opposition leaders and backbench MSPs, Mr Salmond told the BBC: "I'm going to miss first minister's questions, I really enjoy it.
"I'm not sure I'll miss on a Wednesday night preparing for first minister's questions, but I've had a great run over the last seven-and-a-half years.
"All of the various opponents that I've faced - there have been a large number of them over these seven years - I wish them all well, and I know that Nicola will be more than a match for anything our political opponents bring forward."
Mr Salmond, who announced he was leaving frontline politics at Holyrood after September's independence referendum "No" vote, also paid tribute to the way the Edinburgh parliament had grown.
"I think everybody now sees the Scottish Parliament as the fulcrum of political debate in the nation," he said.
"That seems an obvious statement to make now - it wasn't so obvious back in 1999 when the parliament was reconvened.
"The credit for that goes not to one first minister but to all the first ministers since devolution, but also to every parliamentarian who's made the Scottish Parliament the grand inquest of the nation."
MSP Jackie Baillie, who will lead questions for Labour, which is currently without a permanent leader, said: "I do hope Alex Salmond will break the habit of a lifetime and actually answer a question."
Ms Sturgeon will officially become SNP leader at the party's annual conference at the weekend, before she is expected to be voted in as first minister in parliament next week.
Scottish Secretary Alistair Carmichael said the referendum result showed that people in Scotland wanted two governments looking after their interests.
"Nicola Sturgeon taking over as leader of the SNP and as Scotland's first minister offers us an opportunity to hit the reset button for the relations between the Scottish government and the United Kingdom government," he said.