Neil Findlay launches Labour leadership bid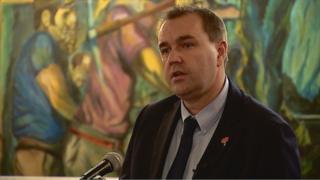 MSP Neil Findlay has launched his campaign to be the new Scottish Labour leader insisting he is no "machine politician".
Supporters of the left-wing politician believe he has been building support to beat MP Jim Murphy, seen as the frontrunner in the contest.
On the day of the MSP's launch, he was backed by the GMB union. He already has the support of Unison and Unite.
The Labour leadership is up for grabs after Johann Lamont's decision to quit.
She accused Labour in Westminster of treating the party in Scotland like a "branch office".
The new leader will be announced on 13 December, after a contest decided by a vote involving Scottish Labour parliamentarians, party members and affiliated trade unions and societies.
Mr Findlay launched his campaign at the miners welfare club in Fauldhouse, the West Lothian village where the former bricklayer and teacher grew up and still lives.
The Lothian MSP, who left school at 16, said a strategy to end poverty and youth unemployment would be at the heart of Scottish Labour's 2016 election manifesto.
He also said social care would be made a "rewarding and fairly-paid career" and that the NHS would be fit to meet the demands of the 21st Century.
Labour values
Getting his campaign under way, Mr Findlay said: "I never sought to have a career in politics. I am not a career politician, I am not a machine politician.
"The modern day conventional political career is school to university to working for a politician then into parliament - that's not me."
Laying out his policy plans, the MSP added: "It's shameful families in this country can't afford to feed their children or hear their homes and have to rely on food banks.
"A national strategy to end poverty in Scotland will be at the heart of our 2016 manifesto when I am Labour leader."
He added: "There will be no privatisation of Scotland's NHS under my leadership."
The Lothian MSP , who has also been backed by the Glasgow Kelvin Constituency Labour Party, is aiming to extend his union support to individual Scottish Labour members, ahead of the winner being announced.
Mr Findlay told those gathered for his launch event: "Our ambitions for Scotland must be big enough to match Scotland's needs. That is what I want us to be doing.
"Taking Labour forward, taking Scotland forward. Labour values for a Labour Scotland. That's the challenge that faces us - let's rise to it".
The leadership is being contested by Mr Findlay, his fellow-MSP Sarah Boyack and the MP Jim Murphy.
Jim Murphy has won the backing of the Community trade union, which represents about 30,000 workers throughout the UK.
Speaking after a meeting of the union's Scottish forum on Saturday, Assistant General Secretary John Paul McHugh said: "Our members are clear, they want a leadership team for Scottish Labour that can get our party back on track, can win elections and can make Scotland a fairer and a more prosperous country.
"With Jim Murphy as Leader and Kezia Dugdale as Deputy, Scottish Labour will be well placed to win back the trust of the Scottish people."