Plan for elected Scottish university chairs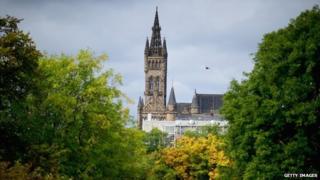 Scottish university chairs face elections to get their jobs, under plans to make them more accountable.
Ministers said standards must be kept up, but university leaders questioned the need for government reform, after bringing in their own changes.
The Privy Council may also be replaced in Scotland with a new committee to consider changes to the way universities are run.
Legislation is expected before parliament next year.
As the Scottish government published a consultation on proposed reforms, Education secretary Mike Russell also said he wanted to achieve at least 40% female membership on higher education boards.
He added: "This government has invested heavily in our university sector and remains committed to placing free tuition at the core of our offer to students and ensuring access to higher education is as wide as it can be.
"But we must continue to evolve and innovate if we are to keep our standards high."
However Universities Scotland, which represents the nation's 19 higher education institutions, said reforms made a year ago through a new code of practice had seen in a series of progressive changes.
'Fully committed'
These included five of the last six appointments to the post of chair being women, and giving students more of a say on the recruitment of their principal and other senior university figures.
Universities Scotland convener, Prof Pete Downes, said: "Higher education is a very successful sector in Scotland - one that excels across almost every measure of performance and one that is continuously working to deliver more for Scotland economically, socially and internationally.
"Autonomous universities are responsive to the many and varied communities we serve and are fully committed to the principles of inclusiveness, transparency, effectiveness and accountability that underpin good governance.
"Universities have just adopted a governance code which enhances these principles.
"We urge careful appraisal of whether government action now will enhance universities' implementation of the principles which are at the heart of our autonomy and success."
The government proposals were put forward in the wake of a review of the way higher education institutions are run, conducted by Robert Gordon University principal Ferdinand Von Prondzynski.