Sturgeon vows to be 'most accessible' first minister ever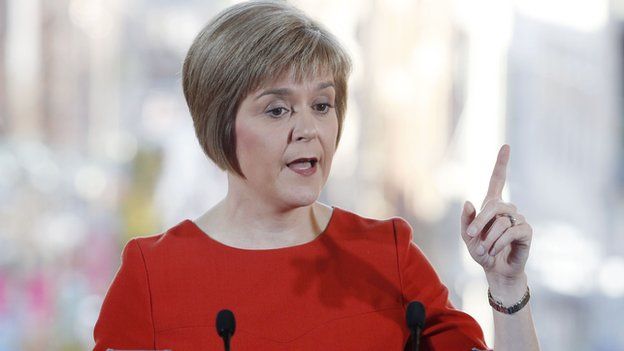 Nicola Sturgeon has pledged to be "the most accessible first minister ever" when she takes over from Alex Salmond.
The current deputy leader of the SNP made the promise during a keynote speech in Dundee's Caird Hall on Friday evening.
Her plans include a monthly Facebook question and answer session with members of the public.
Ms Sturgeon will also stage regular town hall public meetings.
The Scottish Cabinet will meet outside Edinburgh every two months as part of the transparency plans.
And Ms Sturgeon will offer to go before the Conveners Group of the Scottish Parliament on a regular basis to answer questions on the government's record and plans.
As part of a nationwide tour, which also includes Inverness, Glasgow and Aberdeen, she told the Dundee audience: "For too long the conversation between politicians and the public has been reduced to 30 second soundbites and stage-managed public appearances.
"The referendum campaign changed all that, bringing citizens and politicians closer together than at any previous time in our nation's history.
"That might not always be comfortable, but it's exactly as it should be in a healthy democracy. And this level of accessibility and direct contact is perfectly possible in a nation of five million people and should be the standard all of the time - not just during such a high-level event as a referendum campaign."
Mr Salmond decided to stand down as SNP leader and first minister after the 55%-45% vote against independence in September's referendum.
SNP membership has since gone from 25,000 to over 83,000.
Although the events in Ms Sturgeon's tour are principally for new members, they will also be an opportunity "to engage beyond SNP ranks and build new support".
Ms Sturgeon said: "We live in a very different world from when the Scottish Parliament was reconvened in 1999, with modern methods of communication which can and should be employed to invigorate our democracy - in addition to the more traditional forms of engagement which came into their own in the 'Yes' campaign.
"I am determined to lead an outward-looking government, which is open and accessible to members of the public, ensuring that the SNP remain close to all the people we serve, regardless of how they vote."
Related Internet Links
The BBC is not responsible for the content of external sites.