Holyrood's presiding officer Tricia Marwick starts tweeting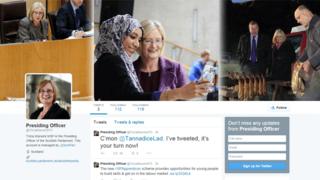 The Scottish Parliament's presiding officer, Tricia Marwick, has joined social media and started to tweet.
The first message she wrote from her @TriciaMarwickPO handle was about an apprenticeship scheme for young people.
The presiding officer, who chairs proceedings in the Edinburgh parliament, is a fortnight behind the Queen in taking to Twitter.
Ms Marwick's third posting was a plea to BBC Scotland's Brian Taylor to write his first tweet.
The political editor is signed up to Twitter as @TannadiceLad, but, despite having 6,134 followers, he is yet to post anything on to the social media platform.
Ms Marwick is following 112 accounts and her first three tweets attracted 122 followers.
In the past, the presiding officer has taken a clear line on MSPs using social media from the Holyrood chamber.
In 2011, she said members needed to give their full attention to the "serious business" of passing new laws and holding the government to account.
Ms Marwick's ruling came after MPs supported a motion allowing use of Twitter during House of Commons debates.
Despite a plea from MSP Patrick Harvie, who said Twitter and Facebook could "open up" discussions to the electorate, Ms Marwick insisted tweeting would "undermine" chamber business and would not be allowed.
She said she was "concerned" about the increasing use of electronic devices and in particular the use of social networking sites such as Twitter and Facebook.