Jim Murphy and Kezia Dugdale receive most Labour leadership nominations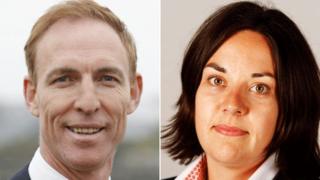 Scottish Labour MP Jim Murphy and MSP Kezia Dugdale have won majority backing from parliamentary colleagues in their bid to be the party's leadership team.
Former UK Cabinet member Mr Murphy is vying to succeed Johann Lamont as Scottish Labour leader, with Ms Dugdale standing to be his deputy.
MSPs Neil Findlay and Sarah Boyack are also standing for leader. Ms Dugdale will compete against MP Katy Clark.
Ms Lamont announced she was quitting as Scottish Labour leader last month.
At the time, she accused Westminster colleagues of treating Scotland like a "branch office".
Ms Lamont's deputy, MP Anas Sarwar, also stood down to allow Labour in Scotland to select a new top team.
As nominations for Scottish Labour leader closed on Tuesday afternoon, Mr Murphy, writing on the Labour Hame website, said: "The fact that I am backed by so many MSPs, MPs and MEPs, shows that the days of division in our party can and must be a thing of the past."
---
ANALYSIS
By Brian Taylor, BBC Scotland political editor
Speak to Labour folk - as I have been doing - and you get the strong impression that they are all treading warily.
Understandably, after a period of quite remarkable turmoil, they seem anxious and apprehensive.
It is a little like a family gathering on New Year's Day after there has been a furious row at the Hogmanay party.
Your aunt won't quite catch your eye: she knows she said too much. And your young cousin? Well, that was just out of order.
Shuffling embarrassment, downward glances, muttered apologies. Tea, anyone? What's on the telly?
And the worries. Will the row clear the air? Will it prove cathartic? Or is this just a pause before Round Two?
---
The East Renfrewshire MP and former Scottish secretary, added: "As many people know I'm a football fan (I'll be playing against a BBC team tomorrow morning with Phil Neville and Robbie Savage in their line-up).
"Sometimes in the past the Scottish Labour Party has seemed like a team that enjoyed tackling its own players in public.
"If a football team did that the supporters would soon turn away and the team would end up playing in an empty stadium. Those days are over for Scottish Labour. This is a fresh start."
Each of the five candidates met the minimum requirement of 10 nominations from an MP, MSP or MEP to stand in the contest.
Mr Murphy received the most nominations, with 43. Mr Findlay has 12 and Ms Boyack 10.
Ms Dugdale was backed by 51 parliamentarians, but insisted she was not standing on a joint ticket with Mr Murphy, while Ms Clark received 11 nominations.
The ballot of Scottish Labour MPs, MSPs and MEPs, party members and affiliated unions begins on 17 November, and will see a leader announced on 13 December.
The five candidates will now take part in a series of hustings, ahead of the winner being declared.
Both Mr Findlay and Ms Boyack have listed themselves among their political backers.
However, Mr Findlay has been picking up significant support from union leaders.
---
---
Unison - which represents about 150,000 public service workers in Scotland - said it would be giving its support to Mr Findlay.
He has also received the backing of building workers' Union Ucatt and he said the NUM, which represents miners, would recommend to their members that they also give him their support.
Members of affiliated trade unions receive a third of the votes under Labour's electoral college system, with one third going to parliamentarians and the other third to party members.
Scottish Labour hold 38 of 129 seats in the Scottish Parliament, 40 of 59 Scottish seats in the House of Commons and two of the six Scottish seats in the European Parliament.