Profile: Sarah Boyack, Scottish Labour leadership candidate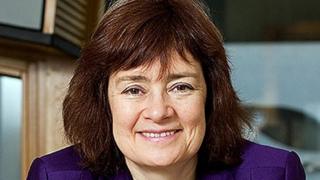 Sarah Boyack's announcement that she would stand for the leadership of Scottish Labour took many people by surprise.
Despite being an MSP since the start of the Scottish Parliament, the Lothian region MSP has not been a high-profile figure in the party since the very early days.
The 53-year-old was a member of Donald Dewar's first cabinet in 1999 when she served as environment minister.
She later took on the transport brief where she introduced free bus travel for the over-60s.
But her ministerial experience only lasted for a couple of years before she was pushed on to the backbenches.
Boyack, who grew up in Edinburgh, has a strong Labour background. Her late father Jim Boyack was a key figure in the campaign for a Scottish Parliament.
His daughter, who was extremely active in student politics when studied modern history and politics at Glasgow University, also describes herself as a "long-standing, committed devolutionist."
Ms Boyack said the referendum campaign had seen a "fantastic debate" about politics in Scotland.
She added that a stronger Scottish Parliament was on its way as a result of the Smith Commission.
Boyack's standing as an experienced senior figure within the party was shown when she was given the task of reviewing what went wrong after Labour's Holyrood election disaster in 2011.
Along with Labour MP Jim Murphy, she delivered the review in September 2011.
Ms Boyack said at the time: "Labour devolved Scotland when we set up the Scottish Parliament in 1999, and we are proud of that.
"Labour used that Scottish Parliament to deliver important reforms for Scotland, but we didn't reform ourselves. Now we need to make devolution a reality within our party too."
'Unfinished business'
The package of reforms recommended by the review included fully devolving itself from the UK party on all Scottish matters.
With former Scottish Labour leader Johann Lamont, who resigned last month, claiming that Westminster treated Scottish Labour as a "branch office", it appears the reforms were not wholly successful.
Ms Boyack has admitted there is "unfinished business" with the party reforms.
The MSP also sat on Labour's Devolution Commission, joining after the publication of its interim report in April 2013, which had said the party was minded to devolve all income tax to Holyrood.
The plans were watered down after Boyack joined and the final report on proposals for further powers for the Scottish Parliament talked of the ability to vary tax by 15p in the pound.
Ms Boyack said she wanted to move the debate on to how new powers could be used best for the Scottish people.
"We need a lively debate, we need a robust debate, and we need to involve people across the whole country and reach out to the people that we have worked with over the last few months," Ms Boyack said.
"There have been thousands of debates across the country. People have huge ambition for Scotland, and it is Labour, I believe, that can take those agendas forward and make Scotland the place it needs to be."
Regional list
Ms Boyack points to serving as a minister and as a member of Labour's Devolution Commission to showing her "experience to lead".
However, others note that her ministerial experience was a number of years ago.
When she was elected to the Scottish Parliament in 1999, as MSP for Edinburgh Central, she went straight into a ministerial role in the new Scottish Executive.
However, two years later, when Jack McConnell took over from Henry McLeish, Boyack lost her post in a reshuffle.
She served as convener of Holyrood's environment and rural development committee before briefly returning to government shortly before Alex Salmond's SNP took power in 2007.
When the SNP swept to a second victory in 2011, Boyack lost her first-past-the-post seat but remained in parliament because she was also on the regional list for the Lothians.
Ms Boyack will seek to regain her Edinburgh seat at the next Holyrood election. Some have suggested her leadership bid is an attempt to boost her profile for that election and push her up the party's regional list of candidates.