Profile: Neil Findlay, Scottish Labour leadership candidate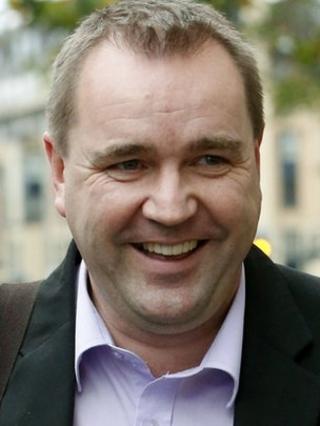 Neil Findlay did not want to stand as Scottish Labour leader. He wanted former UK prime minister Gordon Brown to take the role.
But Mr Brown refused to return to frontline politics so the 45-year-old Lothians list MSP has launched his own bid.
He is widely described as being on the left wing of his party and is happy to describe himself as a socialist.
Mr Findlay has called for "clear red water" between Scottish Labour and Nicola Sturgeon's SNP ahead of the next Holyrood election in 2016.
His "policy options" include raising the minimum wage, freeing councils to set their own taxes and reversing the 40,000 job losses across councils.
He also wants to re-introduce council house building on a "grand scale" and wants to roll back the use of the private sector in the NHS.
One of the most prominent campaigns on his personal website is a call for an independent review of all cases of miners arrested in Scotland during the strike in the early 1980s.
Mr Findlay has only been in the Scottish Parliament since the last election in 2011.
Before that he was a councillor in West Lothian, an area where he was born and has lived most of his life.
When he left school he was an apprentice bricklayer with his father's business before he returned to education to study Geography and Politics at Strathclyde University.
He then became a housing officer with housing associations and local authorities before taking a post-graduate degree to become a teacher.
He taught in schools in Falkirk for eight years.
Mr Findlay, who is a member of the EIS teaching union and Unite, has been gathering support from unions.
Unison, which represents 150,000 workers in Scotland, said it had been "hugely impressed" by the Lothians MSP, who it said offered the chance of a "fresh approach".
ASLEF general secretary Mick Whelan described the MSP as having the "character, vision, talent and ability" to deliver change.
While the TSSA said it believed a leadership team of Mr Findlay and Ayrshire MP Katy Clark would "represent the workable alternative to the market driven madness that is causing so much harm to ordinary people in Scotland and across the UK".
'Progressive change'
Announcing his intention to stand, Mr Findlay, Labour's health spokesman, said: "I have been overwhelmed by the messages of support from people from within the Labour Party and across the wider Labour movement all urging me to stand.
"It is no secret that I wanted Gordon Brown to run but since Gordon has ruled himself out I now believe we need to have a wide-ranging debate about the way forward for the Labour Party, but more importantly the country.
"I want to bring the Labour Party together to work for progressive change and create a fairer, more equal and prosperous Scotland.
"If elected Labour leader I will put the issue of social justice at the heart of everything we do - this is the historic mission of the Scottish Labour Party but it also has to be about what we deliver for the Scottish people in this post-referendum period.''
Mr Findlay was one of the members of the Red Paper Collective which criticised Scottish Labour's Devolution Commission.
The collective called for Labour to join all of the other political parties and advocate the full devolution of income tax.
Mr Findlay said he had "sympathy" with that approach but was "absolutely willing to listen to other opinions".
He said: "That was a position that a number of people put across. I understand why people would argue for that but I don't close my mind to anybody's opinion. I think it is good that we are having that debate.''