Kezia Dugdale and Katy Clark stand for Scottish Labour deputy leader role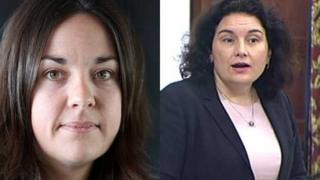 Scottish Labour MP Katy Clark and MSP Kezia Dugdale are the two contenders hoping to become the party's new deputy leader, it has been confirmed.
Declarations for the post have closed with Ms Clark still seeking one more nomination from fellow MPs and MSPs before the final deadline on Tuesday.
MP Jim Murphy and MSPs Neil Findlay and Sarah Boyack are to stand in the leadership contest.
Scottish Labour is seeking a new leader after Johann Lamont resigned.
Her deputy Anas Sarwar also stood down to allow Labour in Scotland to select a new top team.
Voting begins on Monday 17 November and the new leader and deputy should be formally elected on Saturday 13 December.
Sources close to Ms Clark said she had secured the 10 nominations required and was confident of being on the ballot.
'Win the trust'
Launching her bid to be deputy leader, Ms Dugdale, an MSP for the Lothian region, said: "I stand for tomorrow's Scotland - a country free from poverty and injustice, with opportunity for everyone.
"That means good jobs and wages, decent chances at school, more college places, and childcare that doesn't cost twice your rent.
"I want to be part of a leadership team that makes this Labour's crusade. But to do any of it, we need to win the trust of the people again."
The party's education spokesman at Holyrood, who has only been an MSP since 2011, added: "I am standing to help rebuild our party and support the new leader's efforts to reconnect with the Scottish people.
"I hear what the Scottish people say. I know they want change.
"It used to be said that we should do less, better. Now we have to do everything better."
'Politics has changed'
Many of the MPs and MSPs who have nominated her for deputy leader have also nominated Mr Murphy for the leadership job.
However, Ms Dugdale insisted she was not standing on a joint ticket and had been nominated by parliamentarians backing each of the three leadership candidates.
North Ayrshire and Arran MP Katy Clark has received the support of the Unison union, which on Saturday backed Mr Findlay to be party leader.
Launching her deputy leadership campaign, Ms Clark, who has been at Westminster since 2005, said: "We must recognise that Scottish politics has changed and it can't be business as usual.
"The vast majority of people want a secure job, a decent home and access to good quality public services. This is prevented for too many by wealth being held in the hands of a minority.
"It is unacceptable in the 21st Century that people have to queue at a foodbank to feed their children. These are the issues I will be addressing throughout the campaign."