Scottish trade unions call for tax, welfare and immigration powers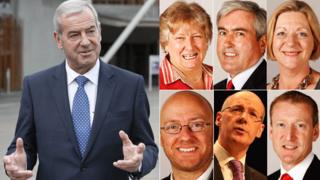 The Scottish Trades Union Congress has called for major new powers for the Scottish Parliament.
In a submission to the Smith Commission on devolution, the STUC said there should be full devolution of income tax and many welfare benefits.
It also called for MSPs to have the ability to set a distinctive policy on immigration and asylum.
The commission has invited individuals and organisations to submit their views by 31 October.
Prime Minister David Cameron appointed Lord Smith of Kelvin to chair talks on more powers for Scotland after voters rejected independence in September.
Scotland's five major political parties are represented at the talks, and are expected to reach an agreement on a way forward by 30 November.
The parties have put forward their own proposals for more powers in areas including taxation, benefits, the economy and employment.
While Labour has proposed giving the Scottish Parliament control of around 40% of the revenue it raises, the SNP has argued that all tax revenues should be retained in Scotland, unless there is a "specific reason" for any to remain reserved to Westminster.
The Scottish Conservatives and the Liberal Democrats have proposed devolution of income tax, and the Scottish Green Party wants Scotland to have full control of income tax and many benefits.
Devolution call
The STUC said its submission fell short of the SNP's ambition of "devo max" - fiscal autonomy and full devolution of welfare - but went "significantly further than the sum total of the proposals of the three pro-devolution parties".
It called for fiscal powers including the devolution of taxation amounting to at least two-thirds of Scottish public spending, over 50% of all spending in Scotland.
It also called for devolution of:
income tax at all bands and other personal wealth-related taxes
air passenger duty
50% of VAT
alcohol, tobacco, fuel and gaming duties
public sector pensions, apart from civil service pensions
housing benefit
attendance allowance and carer's allowance
employment and trade union law
the work programme
the Crown Estate
broadcasting
the power to form publicly-owned enterprises including a public rail operator
The submission also called for "a presumption in favour of the right to Scotland to pursue distinctive policy on migration, subject to the UK government providing substantiveevidence of detriment to the [rest of the] UK".
Immigration and asylum are currently matters reserved to the UK government and the STUC's proposals in this area go further than many of the parties' plans.
The SNP have proposed "devolved competence over aspects of immigration policies" and the Scottish Greens would like "a degree of flexibility" in the rules.
'Make compromises'
STUC deputy general secretary Dave Moxham said: "Our submission to the Smith Commission challenges all sides to make compromises and put aside any thoughts of political advantage."
He added: "We make substantial proposals which go beyond what is currently offered by the three pro-devolution parties, on fiscal powers, employment law, equalities and welfare.
"However we also hope that the other parties in the talks will recognise that there are real risks associated with full fiscal autonomy and that they should be driving a hard bargain for a guaranteed block grant to buttress major new tax powers including all income tax powers.
"On employment law, minimum wages and equality legislation, our position is straightforward.
"It is now time for Scotland to enjoy the same devolved powers as Northern Ireland to enable distinct and progressive action to tackle the gender pay gap, low pay and scandals such as zero hours contracts."
SNP MSP Annabelle Ewing welcomed the STUC proposals.
"The Smith Commission discussions must include the views of ordinary people and groups like Scotland's trade unions and this substantial piece of work is a very welcome example of that," she said.
"The STUC has shown that it understands the ambition for change that exists in Scotland and it is now up to everyone involved in the Smith Commission to follow suit."