Johann Lamont resignation: Scottish Labour leader timetable announced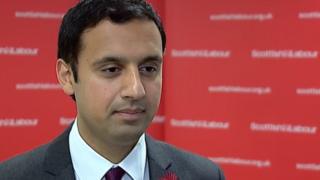 Scottish Labour will have a new leader in place by 13 December, its interim chief has said.
Glasgow Central MP Anas Sarwar said it was important to act quickly to replace Johann Lamont after her unexpected resignation on Friday.
But he said there also needed to be an "open, frank and honest debate" about the direction of the party.
Ms Lamont stood down, accusing the UK party of treating Scotland like a "branch office".
In her resignation letter, Ms Lamont said senior members of the party had "questioned" her place and she was taking herself "out of the equation" so it could decide the best way forward.
In an earlier interview with the Daily Record, Ms Lamont branded some of her Westminster colleagues as "dinosaurs".
Mr Sarwar, who has been Ms Lamont's deputy for three years, told BBC Scotland that the party's executive committee had met and agreed the timetable for the selecting the new leader.
Candidates for leadership will be invited to declare their candidacy from Monday.
Nominations will open on Friday 31 October and close on Tuesday 4 November.
The ballot will start on Monday 17 November and the new leader will be announced on Saturday 13 December.
Mr Sarwar also confirmed that the new leader would be selected under the existing electoral college system which gives equal weighting to three distinct groups - elected politicians, unions and party members.
Both UK Labour leader Ed Miliband and Johann Lamont relied heavily on the votes from the unions to secure their leadership.
But Mr Miliband has changed the process for electing a UK party leader to one-member-one-vote.
Mr Sarwar said the review into the way the Scottish leader was chosen had not be completed so they would retain the existing electoral college arrangement.
He said: "We have had unanimous agreement to get the balance right between moving quickly to elect a new leader and also allowing a period of time to have an open, frank and honest debate about the future direction of the Scottish Labour party."
BBC Scotland's political editor Brian Taylor said Ed Miliband was keen on a short process for electing a new Scottish leader because the UK General Election in May is "just around the corner".
Labour has 41 MPs in Scotland who will fight for their Westminster seats at the General Election. Their level of success could have a serious affect on Mr Miliband's bid to be prime minister.
SNP MSP Stewart Maxwell said: "The London-based leadership is pulling the party's strings in Scotland, and Labour campaigning side-by-side the Tories in the referendum, has proved a deeply corrosive combination which is causing Labour support to plummet in Scotland.
"The latest polling analysis indicates that people in Scotland will not forget Labour's alliance with the Tories. Labour are now polling at just 26% for next year's UK general election, while SNP support has surged to 43% - and has been consistently high since the referendum.
"Labour were already a party in crisis, and Johann Lamont's resignation - caused by infighting and deep division - has plunged them to a new low."
Mr Sarwar would not confirm if he intended to stand as leader, saying he would not rule it out but that he needed to think it through.
Other possible candidates include East Renfrewshire MP Jim Murphy and several prominent MSPs including Kezia Dugdale, Jenny Marra and Neil Findlay.
Gordon Brown MP has also been linked to the role but reports have suggested the former Prime Minister has ruled himself out of the running.