Johann Lamont resignation: Salmond blames Miliband for Labour 'meltdown'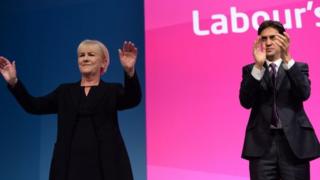 Ed Miliband is to blame for Johann Lamont quitting as leader of the Scottish Labour Party, Alex Salmond has claimed.
Scotland's First Minister said "Labour's meltdown in Scotland has been created by Labour in London."
Ms Lamont resigned on Friday with a stinging attack on her colleagues at Westminster who she said had made her position "untenable".
Scottish Labour is due to set out plans for electing a new leader later.
The party's executive committee will meet to decide the timetable. It has stressed the decision will be taken in Scotland not London.
In her resignation letter, Ms Lamont said she was standing down to enable the party to have a "real discussion" about its future.
She said senior members of the party had "questioned" her place and she was taking herself "out of the equation" so it could decide the best way forward.
In an earlier interview with the Daily Record, Ms Lamont had accused the UK party of treating Scotland like a "branch office" and branded some of her Westminster colleagues as "dinosaurs".
Mr Salmond, who announced after the No vote in the Scottish independence referendum that he will stand down next month, has called on the UK Labour leader to respond to Ms Lamont's claims.
He said: "We have the extraordinary situation that an outgoing leader has admitted that Scottish Labour is just a 'branch office' controlled by London - in other words the Scottish Labour Party is a fiction.
"The person responsible for that, and for making Johann Lamont's position 'untenable', as she herself put it, is Ed Miliband.
"Mr Miliband should be answering questions about why Labour in Scotland is run as an extension of his Westminster office, and why he has effectively forced the resignation of a Labour leader in Scotland."
He added: "He should be making a statement about his responsibility for the meltdown of Labour in Scotland."
Leadership contenders
Responding to Ms Lamont's resignation, Mr Miliband said she had "led the Scottish Labour Party with determination" and deserved "significant credit" for the successful "No" vote in the Scottish referendum campaign in September.
He added: "She campaigned the length and breadth of Scotland making the case for social justice within the United Kingdom."
The timetable for choosing a new leader will be set out soon.
In the meantime, deputy leader Anas Sarwar is in charge and an MSP will be chosen to stand in for Ms Lamont at Holyrood.
Mr Sarwar is among those already being linked to the leadership role. Former prime minister Gordon Brown and fellow MP Jim Murphy have also been suggested as contenders for the job.