Former SNP MSP John Finnie joins Greens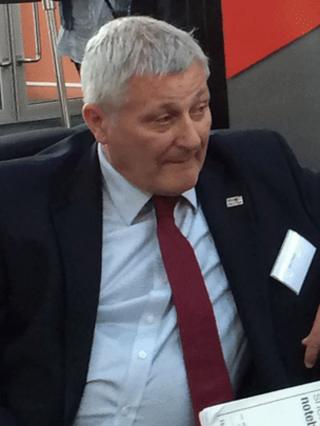 The former nationalist MSP John Finnie has joined the Scottish Green Party at the start of its annual conference.
Mr Finnie was elected to the Scottish parliament in 2011 as the SNP list MSP for the Highlands and Islands region.
He left the party in 2012 over his opposition to Nato membership. Since then, he has attended Holyrood as an independent.
Speaking about his decision, Mr Finnie said: "I've been a Green all my life; I just didn't know it."
Scottish Green Party co-convener Patrick Harvie said: "The Green MSPs have found much to work on with John Finnie since 2012, when he left the SNP and joined the group of Greens and independent MSPs at Holyrood, and it gives me great pleasure to know he'll be working with us from now on as a member of the Scottish Greens.
"Even before the SNP's decision to support membership of a nuclear alliance it was clear that he shares a commitment to Green values, and I know he will be a credit to the Scottish Green Party at Holyrood."
The Scottish Greens have said the gathering in Edinburgh will be their largest-ever conference.
They have reported a surge in party membership since the independence referendum.
The Greens backed the losing 'Yes' side in the vote but since 18 September, membership has more than trebled to 6,300.
The party said 450 people will be at the conference - with about two-thirds of them newly-joined members.
Analysis, Glenn Campbell, Political Correspondent
The Scottish Greens have never been so big.
Their membership has more than trebled as a result of the referendum.
As their co-convener Patrick Harvie observed - the Green youth wing is now bigger than the whole party was a few weeks ago.
The party's newest recruit, independent MSP John Finnie, already co-operates with Greens and other independents at Holyrood.
He now hopes to stand as a Green candidate on the Highlands and Islands list in 2016.
Having left the SNP, his chances of being re-elected to parliament would otherwise have been very slim.
He now has to persuade other Greens to select him as their lead candidate, to maximise his chances.
The theme of this year's event is working with others to find common ground on the way forward for Scotland.
Mr Finnie said: "I would like to thank the Scottish Greens for my welcome to the party today, which has been warm, generous, and enthusiastic.
"Working and campaigning alongside Greens, I've seen that my values are Green values: social and environmental justice, democracy and integrity, internationalism and peace.
"Receiving my membership card today feels like a homecoming."