Scottish Greens expect record conference in Edinburgh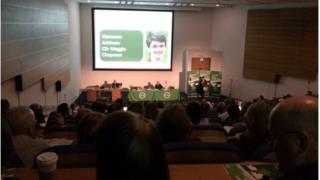 The Scottish Greens have started what they said will be their largest-ever conference.
They have reported a surge in party membership since the independence referendum.
The Greens backed the losing 'Yes' side in the vote but since 18 September, membership has more than trebled to 6,300.
They have hired additional staff, built a new database and have booked a larger venue for the conference in Edinburgh.
The party said 450 people will be at the gathering - with about two-thirds of them newly-joined members.
The theme of this year's event is working with others to find common ground on the way forward for Scotland.
Co-conveners Patrick Harvie and Maggie Chapman will represent the party on the Smith Commission which is looking at additional powers for the Scottish parliament.
The conference will hear from former Labour first minister, Henry McLeish, and church and union representatives.