Swinney pledges NHS funding will rise above £12bn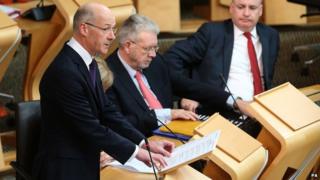 The budget for NHS Scotland is to rise by £288m to over £12bn, Finance Secretary John Swinney has said.
The announcement was part of a package of funding measures set out by Mr Swinney in his budget statement to MSPs.
He also announced funding for infrastructure, schools, housing and energy efficiency.
Labour and the Conservatives accused Mr Swinney of failing to protect NHS funding in successive budgets.
In his budget statement to the Scottish Parliament, the finance secretary said: "This budget follows the most vibrant political campaign Scotland has ever experienced.
"No one could have missed the aspirations expressed with breath-taking clarity that the people of Scotland want to live in a more prosperous and a much fairer country than it is today."
He added: "This budget continues our actions to mitigate UK government welfare cuts with £81m of support and delivers on our commitments to expand childcare and to provide free school meals for all P1-P3 pupils.
"And we will secure the future of the health service in public hands, with extra funding in 2015-16 bringing the total health budget to more than £12bn for the first time."
'Not kept up'
Scottish Labour's finance spokesman, Iain Gray, said the budget document showed a real terms increase in NHS budgets of around 1%, which was less than a quarter of the increase planned in England.
"Health spending here has not kept up with increases, even compared to the Tory-run English NHS," he told MSPs.
"Our NHS has had some £700m less than it should have had, had [Mr Swinney] kept his promises.
"Use of the private sector in our health service has spiralled."
Mr Swinney responded that private sector involvement in the NHS in Scotland had risen from 0.8% to just 0.9%.
The Scottish Conservatives claimed the Scottish Parliament Information Service backed up analysis by the Institute of Fiscal Studies, which showed the health budget had fallen between from 11.8bn to £11.6bn between 2008 and 2014.
Scottish Conservative leader Ruth Davidson said: "There is no getting away from the fact that Alex Salmond has presided over cuts to Scotland's NHS.
"The independent IFS said it and now the parliament's own, impartial information service has come to the same conclusion."
During first minister's questions ahead of the budget statement, Mr Salmond insisted that NHS funding was increasing in real terms.
Draft budget
The draft budget, which will require the approval of MSPs, set out:
£256m in health resource spending, rising to £288m with additional capital spending, resulting in a total health budget of £12.16bn
£390m for affordable housing with an extra £125m support for the housing sector
£330m for further projects under Scotland's Schools for the Future programme
£79 for domestic energy efficiency programmes
free school meals for all P1 to P3 children
£81m to "mitigate the most harmful impacts" of UK government welfare changes
£56m more for capital resource budgets for Scotland's roads
a continuation of free prescriptions, concessionary travel and free personal care
a continuation of the council tax freeze
However, some areas face budget cuts to enable increased spending elsewhere, including:
the justice resource budget will be cut by £46m to £2.5bn
the new ScotRail franchise, from April 2015, will see a £46m cut in support for rail services to £331m
Scottish Enterprise and Highlands and Islands Enterprise face a £40m cut, which will be redistributed to housing
public sector pay restraint will be continued for a second year
Mr Swinney also announced the rates of the first taxes to be levied by Scotland for more than 300 years.
Under legislation agreed at Westminster two years ago, the Scottish government can raise a new property transaction tax, to replace stamp duty, and a landfill tax.