'Mistakes made' in new school exams, says minister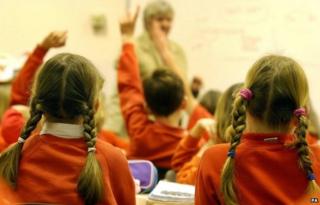 The Scottish education secretary has said mistakes were made in introducing new school exams, but has stopped short of making an apology.
Mike Russell said the process of replacing standard grades with national qualifications had been difficult.
But he told the Scottish Parliament's education committee the new system "is succeeding and will succeed".
One MSP said Mr Russell should say sorry to teachers, parents and pupils who struggled with the changes.
The new qualifications were brought in under the Curriculum for Excellence, an overhaul of classroom teaching which aims to give teachers more freedom and make lessons less prescriptive.
Mr Russell told MSPs the new national qualifications had created over-assessment in schools, but said that would decrease over the next year.
'Good work'
"Everybody who is involved in this process has made mistakes," he said, adding: "Everybody can think of things they would want to do differently.
"This can be difficult and has been difficult, it has not been perfect, no work of human hand is perfect.
"But I think that there has been genuine good work undertaken across the board, by this committee right through to schools, to individuals, and that has produced results and that's what we intend to go on doing."
Labour MSP Neil Bibby asked the education secretary: "As the man who is ultimately responsible, would you like to apologise to the teachers, parents and pupils for what has gone on?"
Mr Russell responded: "No, what I'd like to do is to pay tribute to everybody who has worked so hard. Everybody has worked hard on this and it has been tough for a lot of different people.
"But in those circumstances we have done something that is worthwhile and is producing results for the young people of Scotland."
Mr Russell said many people had worked to make Curriculum for Excellence a success, adding: "We have in process a culture change that is and has been difficult for some teachers, but the whole programme is designed to support that change and to make it happen."
Some teachers, unions and opposition parties expressed concern the curriculum was not ready when it was introduced in 2010.
But ministers said at the time it would improve standards.