Stewart Hosie welcomes 'strong' SNP job backing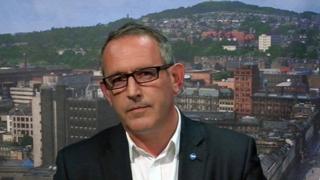 SNP Treasury spokesman Stewart Hosie has welcomed "strong" endorsement for his campaign to become deputy leader of his party.
The Dundee East MP has won backing from the founders of the pro-independence Business for Scotland and Labour for Independence groups.
Mr Hosie said he was delighted to have the support.
The new SNP deputy leader will be elected in a ballot of party members in November.
Scottish transport minister Keith Brown and Youth Employment Secretary Angela Constance are also standing in the contest, sparked by Alex Salmond's decision to stand down as first minister and SNP leader, in the wake of the vote against Scottish independence.
Current SNP deputy leader Nicola Sturgeon is so far the only candidate to replace him.
Wider movement
Mr Hosie's deputy leadership bid has been backed by businessman Tony Banks, of Business for Scotland, and Allan Grogan, who set up Labour for Independence.
Mr Banks, head of the Balhousie Care Group, said: "I was delighted to work with Stewart during the referendum campaign. I am pleased that he understands the need to keep the wider 'Yes' movement alive and campaigning for Scotland."
Mr Grogan, added: "Although I am not a part of the SNP, I wholeheartedly endorse Stewart Hosie in his campaign for SNP deputy leader."
Mr Hosie, said: "It will be vital that we can keep that campaigning energy alive through the 2015 General Election and beyond, and I am very pleased that two able campaigners for Scottish independence have backed my bid for SNP depute leader in this way."