Scotland's deputy first minister says Scottish independence is unstoppable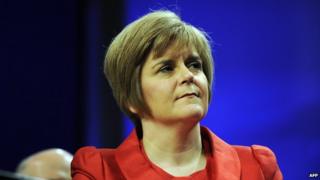 Scottish independence is a matter of "when, not if", according to Scotland's deputy first minister Nicola Sturgeon.
She said more devolved powers promised by pro-UK parties would convince Scots they were able to govern themselves.
Writing in the Scottish Left Review, she said she would use the powers to build a "fairer country and more economic opportunity for all".
The Scottish Secretary Alistair Carmichael has urged Ms Sturgeon to rule out another referendum.
Ms Sturgeon, who is almost certain to be crowned Alex Salmond's successor as first minister when he steps down in November, said the referendum had changed the political landscape.
She said: "There is no going back - and much as they might have wanted to, Whitehall politicians and mandarins cannot put us back in a devolved box.
"The word 'devolution' is no longer adequate, for that describes a process of handing down carefully circumscribed powers from on high to a relatively passive people.
"Scotland is now more politically engaged and assertive than at any stage of the democratic era."
On 18 September 55% of voters backed remaining part of the UK, against 45% who favoured independence.
Ms Sturgeon claimed Better Together's "Project Fear tactics" played a role in determining the result by undermining people's confidence.
She wrote: "In the circumstances, achieving 45% and 1.6 million votes for an independent Scotland was remarkable, and in my opinion will be judged in days to come as the moment which determined that independence was a question of 'when, not if'."
'Home rule'
Ms Sturgeon went on: "Put simply, the more responsibilities we can demonstrate Scotland is capable of successfully discharging - and the more these are used to build a fairer country and more economic opportunity for all - the less people will heed the siren voices claiming that to go further would cause the sky to fall in."
She confirmed that former Labour prime minister Gordon Brown's aspiration for "a modern form of Scottish home rule" in a federal UK within two years will be the SNP's benchmark for the Smith Commission - which is looking at what further powers should be devolved.
In a speech to the Liberal Democrat conference in Glasgow, Scottish Secretary Alistair Carmichael said Ms Sturgeon should rule out any early re-run of the referendum.
He said: "We can all wave flags, join protests and march if we want to.
"But wouldn't it be better to set those things aside, to accept the will of the Scottish people and to put your shoulder to the wheel in our common endeavour?"