Keith Brown wins backing for SNP deputy leader role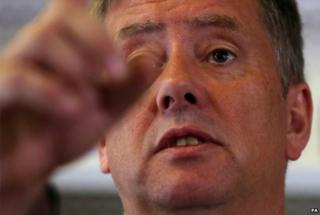 SNP deputy leadership contender Keith Brown has won ministerial support for the job, ahead of November's election for the post.
Scottish Health Secretary Alex Neil and Public Health Minister Michael Matheson have said he was the best candidate.
Mr Brown, who is transport minister, is competing against another MSP and an MP to be deputy leader of his party.
The winner will be decided in a ballot of party members and announced at the SNP's annual conference.
Youth Employment Secretary Angela Constance and SNP Treasury spokesman Stewart Hosie are also bidding to be deputy leader.
The contest was sparked by Alex Salmond's decision to stand down as first minister and SNP leader, in the wake of the vote against Scottish independence.
Current SNP deputy leader Nicola Sturgeon is so far the only candidate to replace him.
Both Mr Neil and Mr Matheson praised Mr Brown's "political instinct".
Mr Brown, said: "It's fantastic to get the support of the public health minister and the cabinet secretary for health - I'm delighted to have such healthy support."
Meanwhile, Ms Constance has pledged to give rank and file members a more prominent voice within the party.
She said: "We must embrace the new politics and the opportunities afforded to the SNP with a trebling of our membership by enabling the full involvement of the membership and the wider Yes movement.
"Substantial but managed reform is required to build on the most precious asset of the Yes movement; its supporters, members and activists."