Scottish politicians attack human rights plan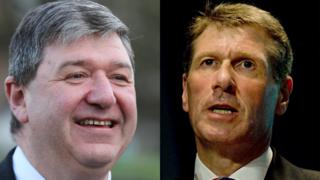 The Scottish government has said it would attempt to block any Conservative plans to curb the power of the European Court of Human Rights in the UK.
The Tories want to give UK courts and parliament the "final say" on human rights issues rather than Strasbourg.
Scottish Justice Secretary Kenny MacAskill said he was "deeply concerned" by the proposal.
His view was echoed by the Secretary of State for Scotland, Alistair Carmichael.
In his speech to the Conservative conference on Wednesday, Prime Minister David Cameron said his party will replace the Human Rights Act with a British Bill of Rights if it wins next May's general election.
Under the Conservative plan, the European Courts would not be able to require the UK to change British laws, with its judgements being treated as "advisory" rather than binding.
Instead, the UK's Supreme Court would be "the ultimate arbiter" on human rights matters.
Scottish Legal Affairs Minister Roseanna Cunningham said the Scottish government was "strongly opposed" to any attempt by a future UK government to repeal the Human Rights Act or to withdraw from the European Convention on Human Rights.
She said: "To do so would require the consent of the Scottish Parliament and, given our longstanding opposition, we would invite the Scottish Parliament to refuse this."
Earlier, Mr MacAskill and Mr Carmichael both criticised the proposals as they addressed a Law Society of Scotland conference in Edinburgh.
And they mutually applauded former attorney general Dominic Grieve's claim that UK Justice Secretary Chris Grayling has not thought through his plan to withdraw from ECHR and made a series of factual "howlers".
Mr MacAskill said the European Convention of Human Rights (ECHR) was enshrined in the Scotland Act and said Scotland should not accept this as "diktat forced upon us but something that we are voluntarily signed up to because it is best practice".
He added: "We wish to be up there with European democracies, not marginalised and sidelined alongside Belarus, as I think Dominic Grieve and others have referred to.
"So, we are deeply, deeply concerned. This is not the trajectory that a European democracy should be proceeding in in 2014."
European Court of Human Rights
822 million people live in jurisdiction

13,152 cases were referred to the court from Ukraine in 2013 - the highest of any member state

99,900 backlog of cases in 2013

89,737 cases ruled inadmissible in 2013
GETTY
Liberal Democrat minister Mr Carmichael stressed that the proposal to strip European judges of their power to enforce human rights in the UK "is the position of the Conservative Party, it is not government policy".
He said he did not envisage any constitutional problems if Scotland retained the Human Rights Act but the rest of the UK did not.
Mr Carmichael added: "We had that very situation in at least the first two years of the Scottish Parliament when it was subject to the Human Rights Act".
He said Scotland "could end up with a compromise which kept the Scottish Parliament within the European Convention of Human Rights".
But he insisted that any attempt to repeal the Human Rights Act at Westminster "will not happen while Liberal Democrats are in government".
Mr Carmichael said: "The Human Rights Act, and the convention rights more generally, have a central place in Scotland's devolution settlement.
"All actions of the Scottish government must comply with ECHR and this is something of which I am proud. It is not something of which I am afraid.
"The Human Rights Act is a protected act and cannot be altered or repealed by the Scottish Parliament.
"Any attempt by a future UK government to repeal the Human Rights Act or to withdraw from the convention could have serious implications for devolved government in Scotland, Wales and Northern Ireland."
'Protecting soldiers'
Meanwhile, the chairman of the Scottish Human Rights Commission, Prof Alan Miller, said it was "irresponsible" to "play party politics with human rights".
Prof Miller said: "Human rights laws often benefit us in ways we do not always realise. Here in the UK, they have been used to expose fatal failures in hospitals and care homes and to challenge the unfair impact of the bedroom tax.
"From protecting soldiers serving in battle to challenging prison conditions that have no place in a decent society, the Human Rights Act and the European Convention on Human Rights provide a safety net for everyone."
He added: "The commission expects the Scottish government and parliament to show leadership on these issues, doing all they can to assert and protect Scotland's commitment to upholding human rights and the rule of law.
"This will be particularly important as we enter a period of negotiation over further devolution of powers to the Scottish Parliament."