Alex Salmond announces plan to block poll tax collection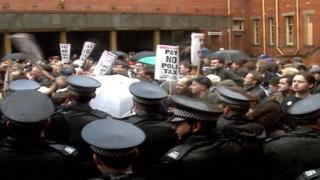 The Scottish government will bring in new laws to stop councils pursuing people for historic poll tax debts.
First Minister Alex Salmond announced the move after it emerged local authorities were using the electoral register to chase outstanding bills.
But the Conservatives branded his policy a "tax-dodger's charter".
The controversial poll tax, or community charge, was introduced to Scotland in April 1989 and replaced by council tax in 1993.
Mr Salmond told MSPs it was misguided for councils to use current records to chase debts from decades ago.
But David O'Neill, president of local government body Cosla, described Mr Salmond's announcement as "bizarre", saying ministers were rushing into new legislation with "obscene haste" and without proper consultation.
The Scottish independence referendum, last month, prompted a large increase in the number of people registering to vote.
Speaking during first minister's questions in the Scottish Parliament, Mr Salmond said that, more than 20 years since the poll tax came to an end, the expanded electoral roll should not be used to claim those unpaid debts.
---
Analysis: Andrew Black, political reporter, BBC Scotland
Poll tax in Scotland
1989
Introduced in Scotland
1993
Replaced by council tax
£425m Total uncollected poll tax debt

£1.3m Poll tax debt collected in 2009-10

£396,000 Poll tax debt collected in 2013
It may have been more than 20 years since it operated, but the term "poll tax" continues to stir strong feelings among people in Scotland.
Which is why Alex Salmond saw today's announcement as a way to strike another blow against his bitter rivals, the Conservatives.
The community charge, as it was officially known, was introduced to replace the rates system - regarded by many as unfair because it was based on the value of people's homes, rather than their ability to pay.
The poll tax, which was a flat-rate charge, was regarded by the UK Conservative government as a fairer alternative, especially in Scotland, where a revaluation of house values meant some faced big tax hikes.
Despite being seen by Tories as a Scottish solution to a Scottish problem, its introduction north of the border in 1989 caused a backlash of protest and non-payment which spread nationwide when the poll tax arrived in England and Wales the following year.
Many people in Scotland felt they were being used as guinea pigs ahead of the roll-out of something which proved to be deeply unpopular, and the community charge was eventually replaced by council tax in 1993.
To this day there remains £425m in outstanding poll tax debt in Scotland, according to local government body Cosla - but much of that is likely to stay uncollected.
A number of councils say the cost and time it would take to chase payments is more trouble than it's worth.
That's prompted the Conservatives to write off Mr Salmond's strategy as an attempt to win votes.
---
He added: "It is, of course, within the law for councils to use current information to assess current council tax liability and, given the council tax reduction scheme protects 500,000 of our poorest citizens, the tax is being applied in a proper and fair way.
"However, the relevance of information from the current electoral register to the position of debts from 25 years ago is difficult to fathom, except through some misguided political intention."
The unpopular poll tax, which replaced the rates system, was introduced by the Conservative Thatcher government in Scotland before the rest of the country, sparking protests on the streets.
Mr Salmond said the total collected in 2013 from poll tax debt in Scotland, which runs to a total of £425m, was £396,000.
He added: "Therefore, I can announce today it's the government's intention to bring forward legislation to ensure that councils can take no further action to recover ancient poll tax debts.
"After 25 years, it's about time that the poll tax was finally dead and buried in Scotland."
Conservative welfare reform spokesman Alex Johnstone said many people in Scotland paid the tax in good faith, subsidising those who could afford to pay but chose not to.
He said: "Are those hardworking people going to be reimbursed too under this initiative?
"If this is the Scottish government's approach on tax collection, why should anyone bother paying any tax at all?
"This is a move geared towards winning a few extra votes, and is nothing but a tax-dodger's charter."
Immediate legislation
Mr O'Neill said Scottish councils had been under, "a very strict obligation to collect every penny of outstanding debt owed to us".
"Indeed, we have been told in the past that until we did this, we should not be asking for any additional money from government," he said.
"It seems very odd that now we have an improved tool at our disposal in the form of an expanded electoral register that may help us maximise collection rates, it is the self-same government that tells us they are going to legislate immediately to prevent us from using it."
He added: "At the moment, the Scottish government have no idea how many councils are making part or total use of the expanded electoral register, they don't know how many individuals in the community would be affected by this, they don't know whether these people now have the resources to pay the debt and they don't know how much additional resource this might provide local government with.
"Despite all that, they are rushing with obscene haste to new legislation."
Mr Salmond's announcement, which came at the start of first minister's questions, earned him a rebuke from Presiding Officer Tricia Marwick.
She said the parliament "may have been better served" had the news been outlined through a ministerial statement.