Angela Constance calls on SNP to 'build' independence case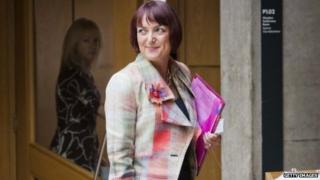 Scotland's youth employment secretary has launched her bid to be SNP deputy leader, saying her party must continue to build the case for independence.
But Angela Constance would not speculate on the timing of any future referendum, after people in Scotland last month voted against independence.
The Almond Valley MSP is competing with Transport Minister Keith Brown and SNP Treasury spokesman Stewart Hosie.
SNP members will take part in a postal vote to choose the new deputy leader.
The contest was triggered by Alex Salmond's decision to stand down as First Minister and SNP leader.
Nicola Sturgeon, the SNP's current deputy leader, is currently the only candidate to replace him.
Announcing her candidacy in her constituency, Ms Constance argued the party "should remain absolutely focused on independence".
She said: "While we don't know for sure when the opportunity to create an independent Scotland will next arise, nonetheless the SNP must continue to build the case for independence - head, heart and soul.
"The SNP is reinvigorated with tens of thousands of new members who have joined the SNP to campaign for independence.
"There is a new politics in Scotland and while I believe the SNP has a duty to lead the independence campaign, we have to recognise we don't have a monopoly on independence and we have to work hand in glove with the wider 'Yes' movement."
'Move forward'
She added: "I want us to quickly learn the lessons from losing the referendum and to move forward the case for independence building on the participation and talents for all.
"The debate about how we take Scotland forward is not about the Scottish Parliament or Westminster, it's about our party, our members and the wider 'Yes' movement.
"It's not about politicians or parliaments - it's about people."
Ms Constance said she was not seeking the position of deputy first minister, which she said would be "purely in the gift of the new first minister".
Ms Constance, a member of the Scottish cabinet who is also responsible for training and women's employment, has been an MSP since 2007.
The SNP's new leadership team will be announced in November at the party conference in Perth.
Ms Sturgeon has not ruled out the possibility of the SNP including a commitment to hold a second referendum in a future election manifesto.
But she also expressed her willingness to work with the Smith commission to boost Holyrood's powers, in the wake of the referendum "No" vote.