Scottish waste recycle target missed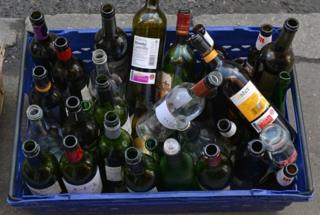 A Scottish government target to recycle or compost half of all household waste by 2013 has been missed, according to new figures.
Scotland's 32 councils recycled 42% of the household waste they collected last year, said the Scottish Environment Protection Agency (Sepa).
Environment Secretary Richard Lochhead said he expected local authorities to rise to the challenge.
He said Scotland had one of Europe's most "enviable" recycling rates.
The 42% figure was a slight increase from 2012, when 41% of household waste was recycled.
The statistics also said:
Only nine councils hit the 50% target, including Clackmannanshire (60%), and East Renfrewshire, North Ayrshire and Fife (all 56%).
The worst performing councils were Shetland (12%), Dumfries and Galloway (24%) and Glasgow City (27%).
Mr Lochhead, said: "In the long run we still have one of the most enviable improvements in recycling rates in Europe: from less than 5% prior to the establishment of the Scottish Parliament, to 42.2% in 2013.
"I expect the larger local authorities, and indeed all local authorities, to rise to the challenge of achieving the target via compliance with the regulations, innovation and collaboration."