MSPs seek action over Tinkers' Heart in Argyll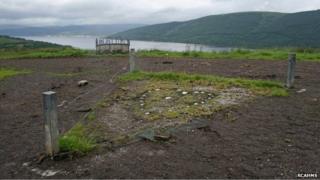 MSPs are writing to Scotland's heritage agency over calls to protect an ancient monument to the travelling community.
Campaigners said the Tinkers' Heart, in Argyll, had been almost destroyed due to neglect, describing it as being like the "death knell of an entire culture".
They said the monument, overlooking Loch Fyne, must be restored and preserved for future generations.
The Scottish Parliament petitions committee said it would raise the case with Historic Scotland.
The Tinkers' Heart, a pattern of quartz stones which was laid at an Argyll crossroads in the 1700s, has been used by generations of Scottish Travellers as a wedding place and for children to be blessed.
'Equality dream'
Historic Scotland has previously said the site did not meet the criteria for it to be designated a monument of national importance.
However campaigner Jess Smith, appearing before the petitions committee, said it was the only monument Scottish Travellers had.
"In 2010, I was informed the Tinkers' Heart was almost destroyed due to neglect and cattle trampling over it," she told MSPs.
"My husband and I went to see for ourselves and, when I saw the state of the place, a knot formed like a stone in my stomach and it was like witnessing the death knell of an entire culture."
Ms Smith argued: "The Heart for these young people is so much more than a monument - it's an indicator of what they believe is their culture.
"It represents a future, a place to visit and say, 'we are part of this country and we can make a difference'. Let us remain proud of our ancestors, because they kept our dreams for equality alive.
"They travel to this little place in all weathers and we'd like to say 'thank you', and the only way we know how is to fight for the Tinkers' Heart to be protected by Historic Scotland."
Argyll and Bute MSP Mike Russell, who is Scotland's education secretary, has also looked into the concerns, telling the committee: "This is the only physical artefact that we can associate with the travelling people.
"Under those circumstances, it forms a unique contribution to our heritage."
Historic Scotland has said it hoped to find a solution to protecting and enhancing the Tinkers' Heart through the Adopt-a-Monument voluntary archaeology scheme.
The agency said improvements had been made to the site by the local community in recent months, which has seen a new, more secure fence put up and an information board provided for visitors.