Ministers criticised over delays in providing Alex Salmond expenses details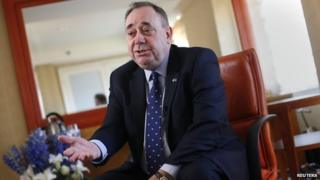 Delays in providing details of the first minister's expenses have been criticised by Scotland's information commissioner.
Ministers refused on security grounds to name UK hotels used by Alex Salmond although they did release details of international hotels.
Rosemary Agnew backed that decision but criticised the way the information request was handled.
She said ministers should have anticipated interest in such a matter.
The Freedom of Information request was made in July 2013 by Sunday Post journalist Andrew Picken.
He later complained to the information commissioner that ministers had failed to respond.
In October 2013, details of travel and subsistence expenses incurred by the first minister's office were provided but the names of hotels were "redacted".
Information about international hotels was later disclosed, almost a year after the original request.
In her findings, Ms Agnew agreed UK hotels should not be named in case a pattern became evident that could jeopardise security.
But she criticised ministers for initially failing to respond to Mr Picken's request and for the length of time it took to establish what information was held.
She added: "The ministers' handling of this request cannot be considered to reflect what the commissioner would regard as good (or even remotely acceptable) practice in responding to an information request.
"This is all the more unacceptable given there is a reasonable expectation that information of this type (expenses incurred by the first minister in the course of his official duties) would be requested and scrutinised."