MSPs consider sex education law call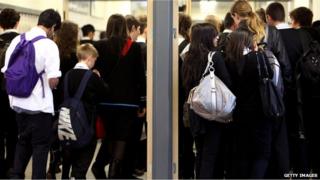 Scottish schools should be compelled by law to teach sex and relationship education, according to an organisation which provides sex education.
Sexpression:UK said discussions about domestic violence, rape and child abuse should be compulsory from a young age.
The call was made as representatives from the organisation made their case to MSPs at the Scottish Parliament.
Scotland's school curriculum is largely set out through guidance, rather than in statue.
Only religious education and Gaelic instruction in certain regions are enshrined in law, while responsibility for sex and relationship education lies primarily with local authorities.
However, Sexpression:UK said more action was needed to tackle Scotland's high rates of teenage pregnancy, sexually-transmitted infections and homophobia.
Split curriculum
Appearing before Holyrood's petitions committee, Sexpression:UK spokeswoman Rebecca Ryce said her organisation's approach was not about a "preach of ideology".
She said the curriculum would be split into factual information about issues such as sexually-transmitted infections and the effectiveness of contraception, and discussion points on subjective topics.
"I think it's good for children to hear all sides of the argument as I think that will inform their learning," said Ms Ryce.
"For example, with gender-based violence I think that should be compulsory. Discussions about domestic violence, rape, assault and child abuse should definitely be brought up in schools from a young age.
"There are core values that I think we should be promoting, certainly, but never an ideology."
Conservative MSP Jackson Carlaw, a member of the petitions committee, raised concerns over a statutory approach, adding: "I would worry there was a received wisdom as to what was correct, and that anyone who perhaps took an alternative view to that would be told that they are wrong, when in fact that is a subjective argument and not, in fact, an absolute one."
Commenting on the proposals, Rev David Robertson, of the Free Church of Scotland, said: "On the surface Sexpression's concerns seem justified and their solutions reasonable.
"However, in reality it is a trojan horse which will be used to indoctrinate our children into the particular sexual ethics and philosophy which Sexpression regard as right."
MSPs agreed to take forward the petition and seek further advice from the Scottish government.
Petitions committee convener David Stewart said Sexpression:UK's evidence was "timely" and "welcome".
"Our recent work on tackling child exploitation shows the benefits of educating children in sex and relationships in an appropriate way, as well as the practical challenges," he said.
"As we progress this petition, we will closely monitor the Scottish government's forthcoming new guidance on sex and relationships education."