Conservative leader Ruth Davidson promises to 're-shape' UK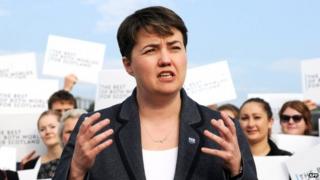 Scottish Conservative leader Ruth Davidson has promised her party will help "re-shape" the United Kingdom.
Ruth Davidson was given a thumbs up by the Prime Minister and a standing ovation as she concluded her speech to the party's autumn conference in Birmingham.
She said it was important not to ignore the 1.6 million voters who supported independence.
She added that the referendum showed Scotland wanted change.
"The status quo is smashed. A new settlement is not just for Scotland," she told representatives. "We will reshape our nation, we will recraft our Union, we will make it fit for the next 300 years."
Ms Davidson said Holyrood should become less reliant on a block grant and more fiscally responsible and be able to look "taxpayers in the eye".
But she said it was right that the Prime Minister considered change across the constituent parts of the UK and criticised Labour and the Lib Dems for lacking the "clarity of vision" of the Tories.
Ms Davidson said: "I want a Scottish Parliament that is in charge of raising more of the money it spends. I want the working people of Scotland to know - when they look at their monthly paycheck - that the right hand column is going straight to Holyrood.
"A more direct link between what is raised in Scotland and what is spent in Scotland.
"Less reliance on a block grant, and a more rigorous and fiscally responsible administration in Edinburgh."
She added: "People across the UK are hungry for change. Now.
"They want power driven out of Whitehall and into their communities. They want decisions taken not just at Westminster, but closer to home.
"That desire, that demand, must be what drives us on."